Introduction of the Aorus Z270X gaming 7
Gigabyte has introduced their new Aorus line-up of motherboards on the consumer market and it has been quite a while that they are available for purchase to the consumers. Supposedly this line-up is Gigabyte's high-class tier of products. We have got our hands on the AORUS Z270X Gaming 7 motherboard which we will be looking up close today.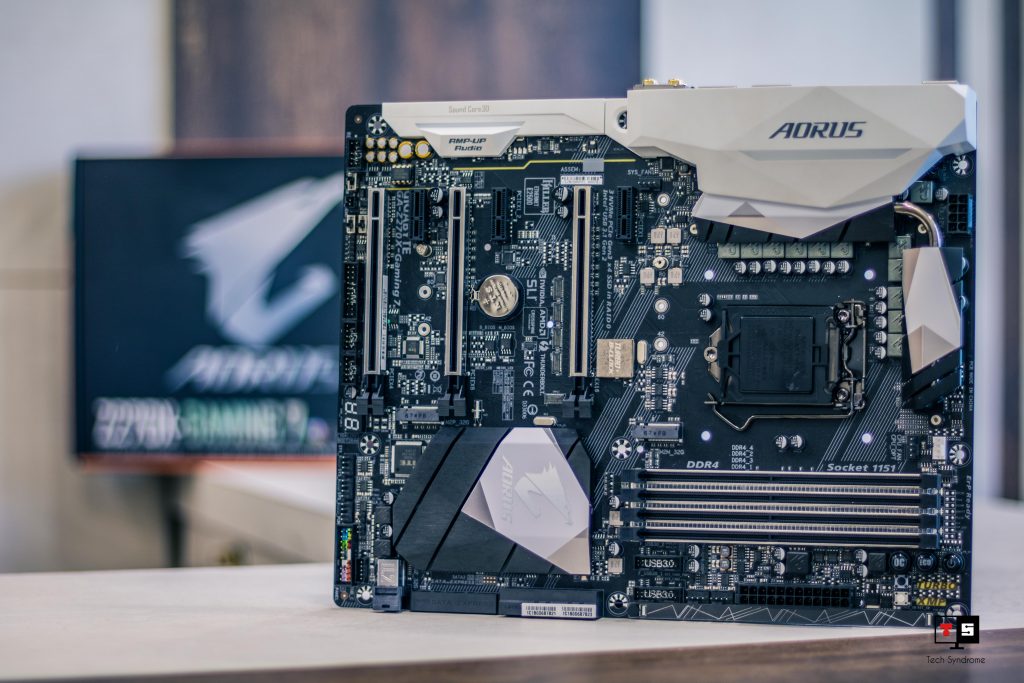 Features of Aorus Z270X Gaming 7:-
DDR4 4000+ MHz XMP Ready
Intel USB 3.1 Gen 2
NVMe PCIe U.2/M.2
RGB Fusion
Creative Sound Core3D Quad-core Audio + SBX Pro Studio Audio Suite
Smart Fan 5
Killer E2500 & Intel Gigabit LAN
40Gbps Thunderbolt 3
Triple NVMe PCIe SSDs in RAID 0 Support
Unboxing and Image Showcase:-
The Overview:-
The motherboard has a cool and simplistic look to it. It has a 12-phase power delivery system and its pretty much enough, considering the Kaby Lake CPUs don't have much of a power hunger. The chipset heatsinks and the plastic shields are all white on the metallic black PCB, the DIMM and PCI-E are reinforced and it has RGB everywhere.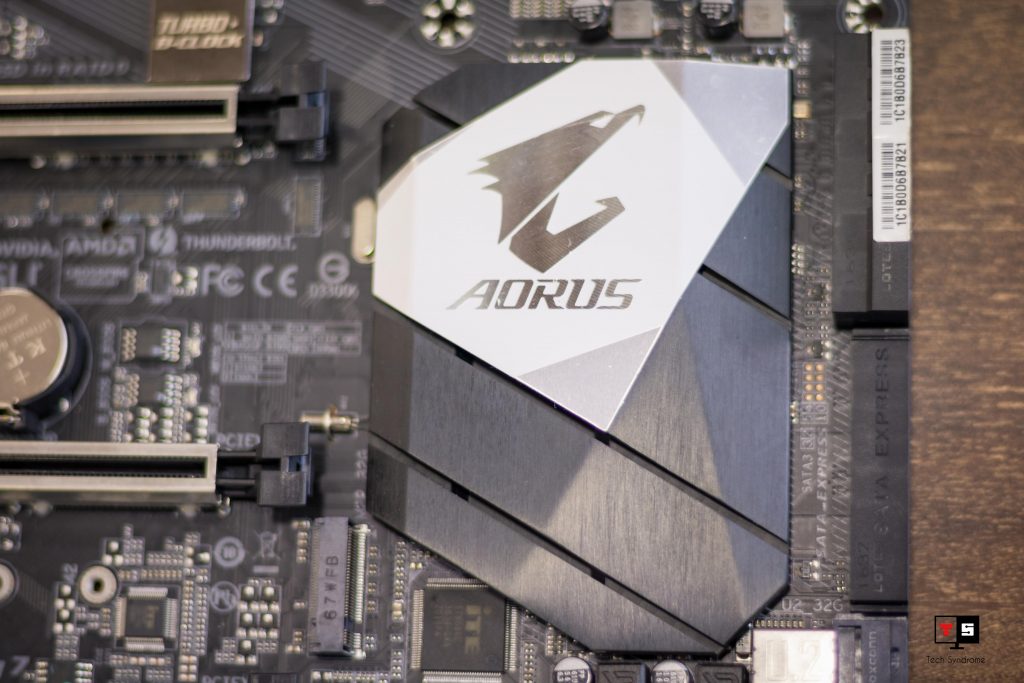 The top-right portion is the place where you can find the Power, Eco, Reset and CMOS clear physical buttons. Reset and CMOS clear buttons are unmarked so you have to figure it out and in case you have lost the manual somehow, the black is CMOS clear and white is Reset.
Connectivity includes two USB 3.1 (1x Type C and 1x Type A) and no USB 2.0 ports. There are two Gb Ethernet ports, one of it is Killer E2500. Alongside five audio ports, there is one digital audio output jack. Display connectivity includes an HDMI and a full-size DisplayPort connector. It's HDMI 1.4 but that doesn't seem to cause much concern as you wouldn't be using iGPU with this kind of motherboards anyway, would you?
However, the USB 3.0 front panel connectors are now on the right side of the board. This might be a concern for the clean builder, as you can see a good part of the wires before being passed to the back, so we would have liked the bottom placement where you could just tuck those thick cables through the PSU shroud or other spaces so that while just straight looking through the case window you can't see those cables easily.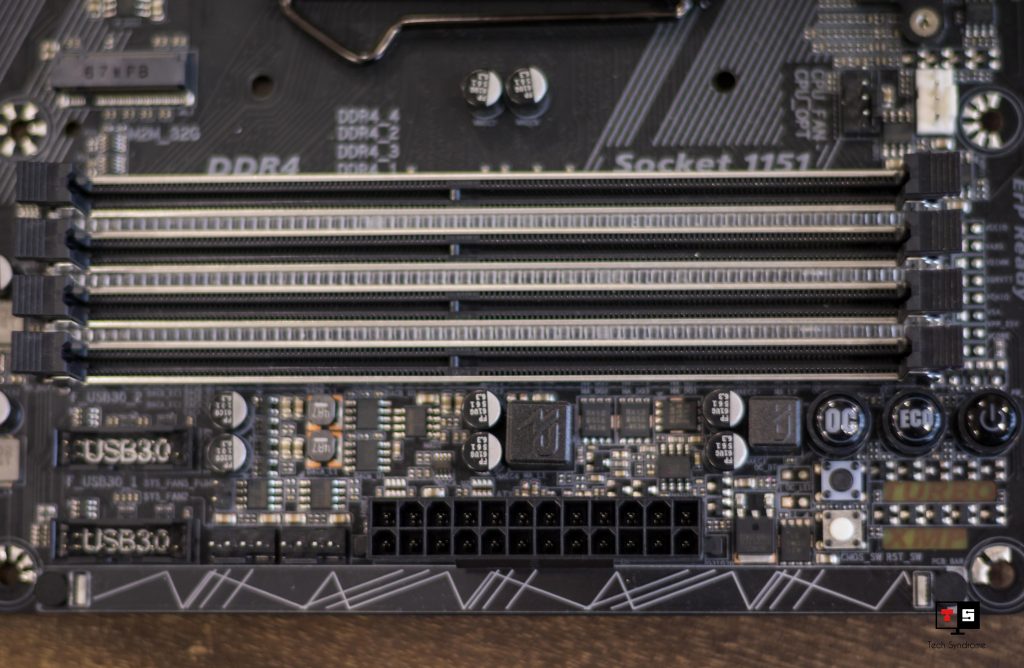 There are many fan headers throughout the PCB, six in number, with PWM. The PCI 1x ports are placed above each PCI-E port and won't get blocked easily as such, but the bottom PCI port is barred from being used for longer 1x port hardware due to the adjacent plastic shield. The 2A rating marks you the go to use things like water-cooling pumps without any problems. There is a U.2 and two M.2 ports in the board, no cooling shields, though.
The Thunderbolt 3 is good to see as it's a versatile port. It can provide up to four times the speed than the fastest USB speeds and can carry higher power. Also, Thunderbolt can also be used for display, having the capability to seamlessly connect two 4k monitors at once.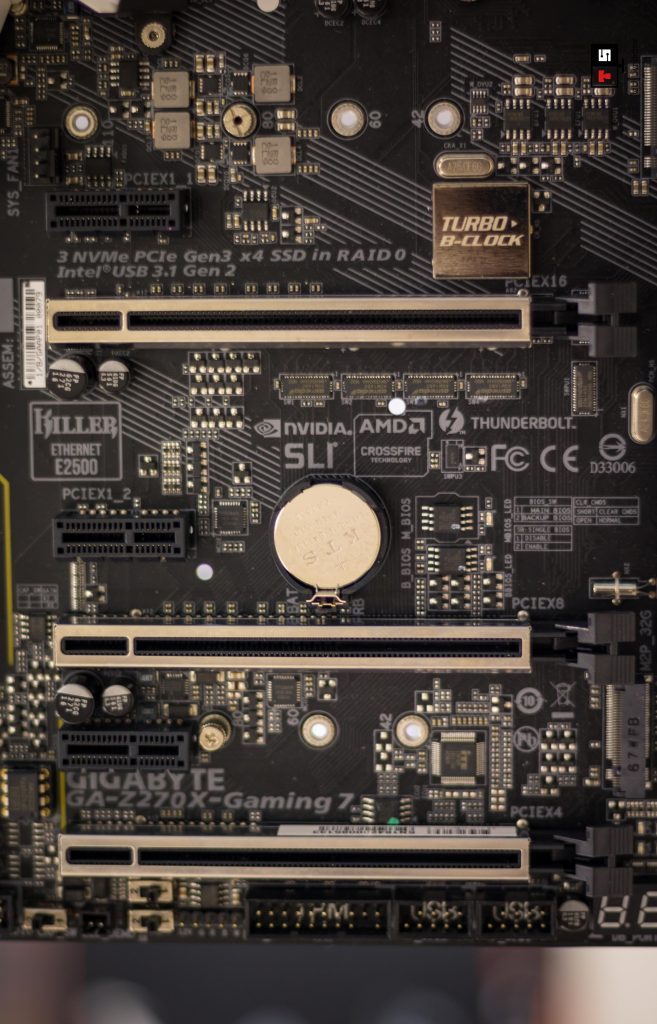 About the glows and glitters, this board is just flooded with LEDs in every place you look at. A stack of RGB LEDs is placed at every location, below each PCIE slot to a plastic strip at the side and even the DIMM slots. Gigabyte does allow you to customize the light colors and effects through their RGB Fusion settings. Also, the light header in the board is RGBW, where the W(White) is supposed to give bright and natural white contrasts
Gigabyte has their built in AMP-Up audio solution via a Creative SoundCore 3D chip, which basically means that you are assured cleaner audio with noticeably less distortion.
Conclusion:-
Finally, to sum things up, the Z270 Gaming 7 is a good board if you love to have a lot of bling inside your case. It also has a suitably good layout that is fine for most users. Few things like an M.2 cooling solution like shields are not included which we would have liked to see on this board, but still, it is totally recommendable.
Verdict:-
Since we did not have a Kaby-Lake processor at the time of doing this hands-on overview, we were not able to test it with this board and also couldnt check the overclocking capabilities of this motherboard.  Hence we won't be able to rate this motherboard in its performance department as of now.
That's about it guys, stay tuned to Tech Syndrome for more tech reviews and unboxing and sorry we could not do a hands-on video of this motherboard cause we are having some audio issues which need's to be fixed as soon as possible and hence the article.