Introduction
Asus, one of the best motherboard manufactures in the industry recently came up with its new line of gaming headphones. Today, we will be reviewing their new ROG Delta RGB Quad-DAC Gaming Headset and see what all the fuss is about and whether it's worth buying or not.
Generally speaking, gaming headphones have never been good when it came to listening to music but have been always good regarding positional audio, which is something very important when it comes to gaming. Will this headphone tell the same story or will it blow my mind with its inbuild Quad-Dac tech inside? Let's find out, shall we?
Inside the Box
So let's start with the unboxing of this beautiful headphone. It comes in a really nice box with the usual Republic Of Gamers Logo at the top left side with the headphone art in between in its own black and red theme.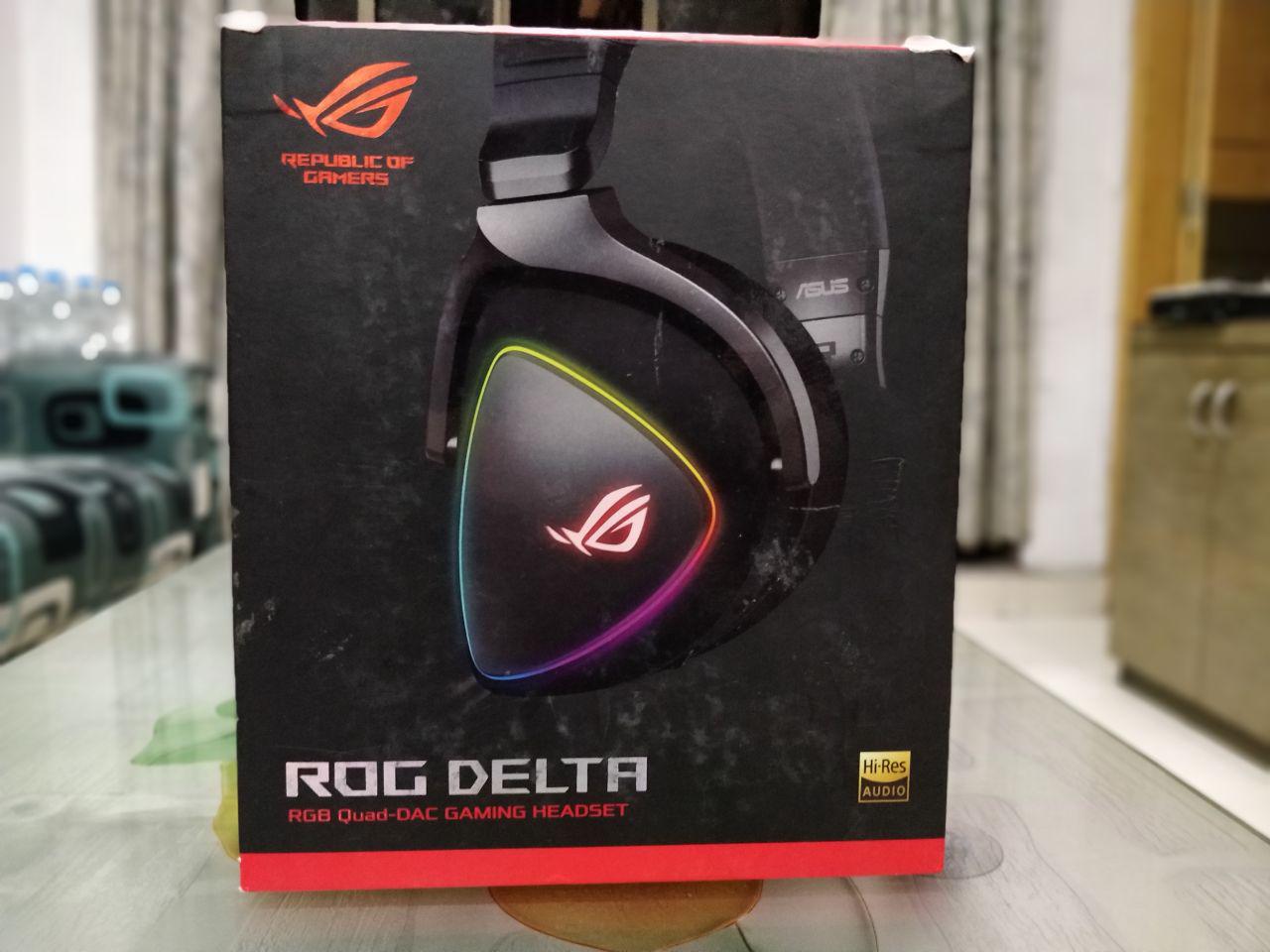 Opening up the box, you will be greeted by this welcome plate with a message saying that the headphone has been tested by professional gamers which will bring the owners the best experience possible.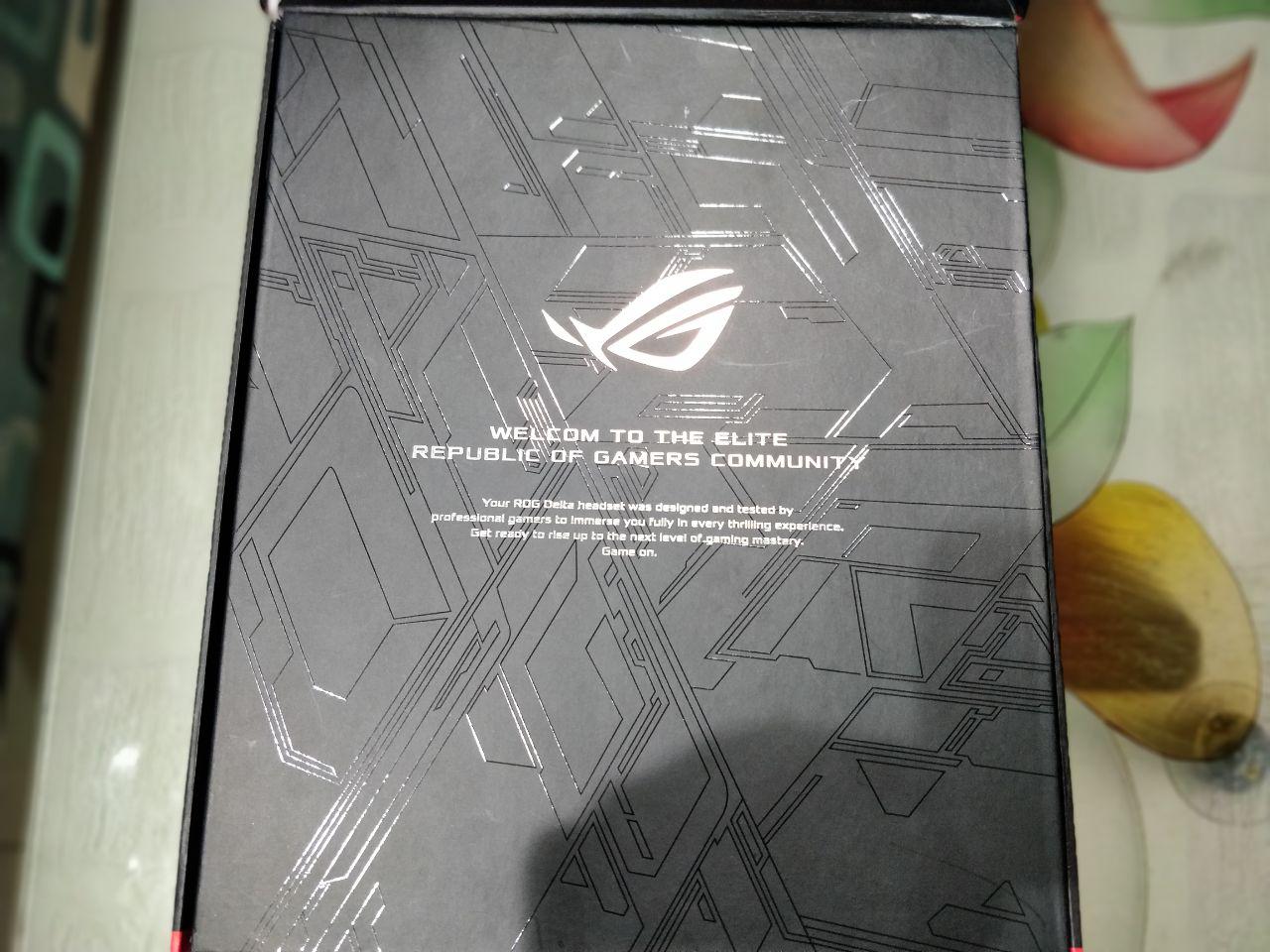 Beneath it, we find the headphone itself and some manuals with an extra pair of earpads and the mic which attaches to the headphone separately. The headphone comes with the ASUS Hybrid ear cushions and in the box, we also get the standard protein leather cushions which is found on most of the headphones these days. The Hybrid cushions provide a bit of airflow in your ears and are recommended for prolonged usage.
The unboxing experience has always been good when it came to Asus products. Being a premium brand, their unboxing experience has never felt underwhelming and has always been absolutely top-notch.
Now, let's get into the physical aspects of the Asus ROG Delta
Physical Overview
Taking the headphone out of the box, the first thing that comes to my attention is the earcups. They are big and are made of passthrough breathable materials which will help your ears get some air during intense gaming sessions or prolonged usage.
Even with having a Quad-DAC inside( More on this later), the Asus ROG Delta headphone does not feel so heavy. They fit perfectly in my ears and do not bulge at all. The ASUS branding is also found inside both the earcups. The left side has the volume control/scroller( with proper steps of increase/decrease) and the RGB control to turn on or off the RGB that is present in these Asus headphones with the mic port at the bottom.
The build quality on these ASUS headphones is solid, comprising of metal and plastic all around. The parts where there is normal wear and tear have been completely made of metal and plastic have been used only in places where it normally wouldn't tear, making these headphones very durable for long-time users. The entire headphone is what I would call, Silvery black in color.
The RGB in this is done very well as well with presets which can be changed via their software (More on this later) and can be controlled via the same. They look absolutely beautiful and are definitely for people who are into RGB or are looking for some powerful headphones with proper RGB implementation. RGB can be turned off by pushing the button on the left earcup below the volume scroller.
Both the earcups can be turned around at an angle so that they can rest on your neck while not in use which is really good to see and there is no clacking sound while doing so which shows pretty good build quality. The headphone is also stretchable making it a perfect choice for people with big heads as well.
The earcups are D-shaped and the ear cushions are what ASUS calls, ROG Hybrid ear cushions. The comfort has been really good as I normally use the headphones for a very long period of time almost every day and this has not created any issues or problems on my ears. They actually fit me quite well and on my friend's ears as well who visited me over the review period also without any issues.
Coming onto the support hinges on both sides, they are mostly metal and plastic all around with head foam from there on out at the whole top portion of the headband.
You can easily adjust the height to your pleasure and liking with stepwise height adjustment which will suit your needs.
The Asus headphones come with a USB C Connector giving multiplatform support for both PC, phones and consoles( USB C to USB 2.0 Type A is also included to support Both PS4 and Xbox systems).
The headband on the top sits comfortably on my head without much pressure and feels light. You will see the Republic Of Gamers branding again on the top side of the headband in a stealthy black accent.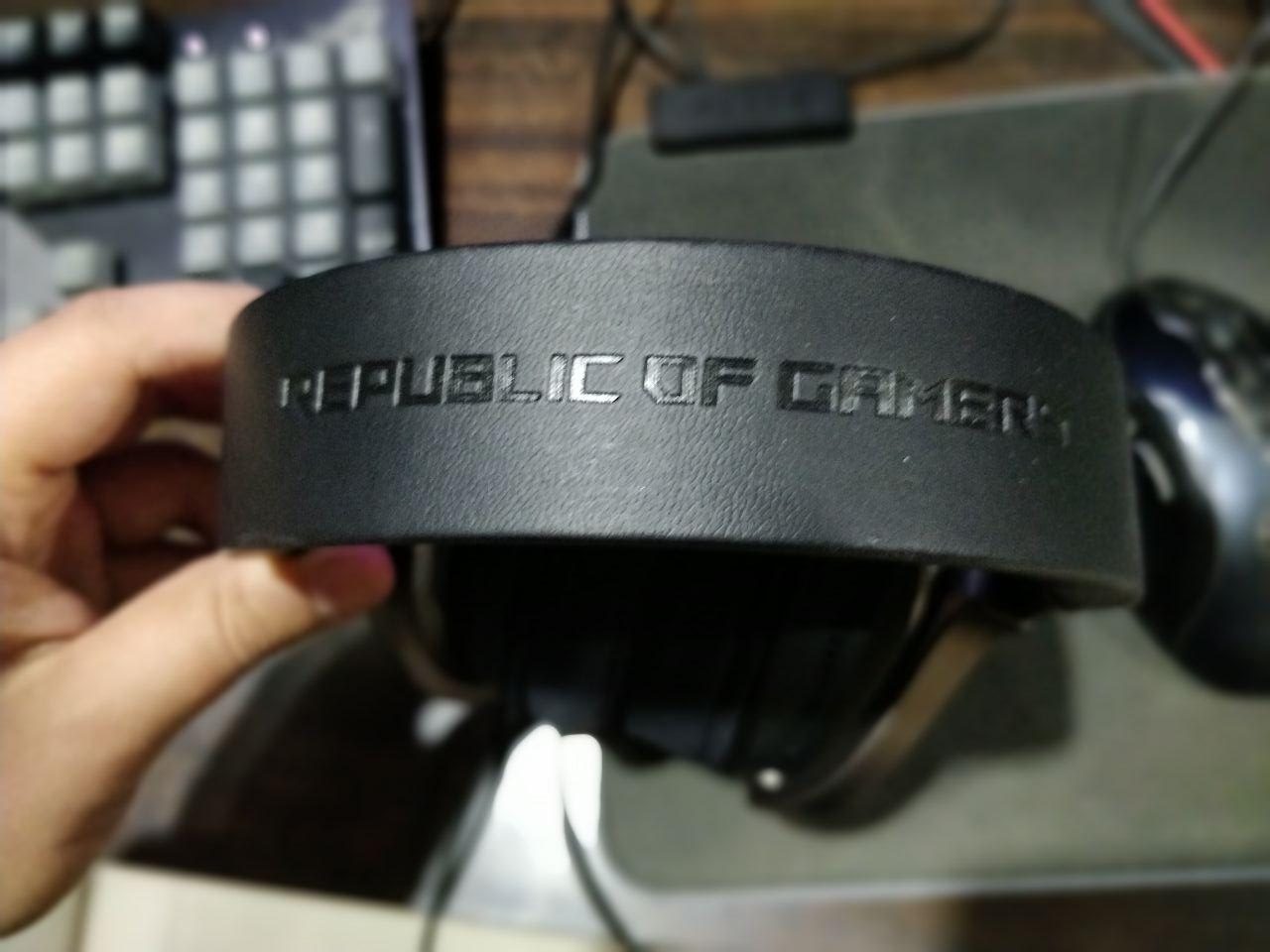 So that's it with the physical overview, now let's get into the most interesting part of the Asus headphone and that is the sound.
Review
Sound
As I have previously mentioned, gaming headphones these days do not sound as good as they should and normal audiophile-grade headsets in the same price range sound better than them but lack proper audio positioning and mic ports. So we were mostly limited on few choices, either we buy a gaming headphone for the positional audio and mic port and sacrifice sound or get audiophile-grade headphones and buy a separate mic with it but sacrifice proper positional audio.
The Asus ROG Delta, however, changes everything. We can now have good sound output, mic port, RGB and as well as proper positional audio with superb comfort, all in one package.
Let's start with the elephant in the room, the in build Hi-Res ESS 9218 Quad-Dac 
Four individual Hi-Res ESS 9218 Dac's are included inside these D-shaped ear cups which provide lossless audio processing. These are the main selling point of these premium headphones which is the main driving force of the ASUS ROG Delta.
Because of these Quad-Dac's, I am able to hear footsteps and gun-sounds which are far away. The case in the example in the PUBG PC game that I played last night with my squad. I was able to correctly pinpoint the location of the enemy based on the audio feedback I got from their gun sounds and footsteps( while up close and personal). Positional audio in these headphones is just so good that the only reason why you will be dying in this game would be your own fault and not because you couldn't hear your enemies coming near to kill you.
Ok, so positional audio is ok but what about the music experience? Well, let's just say it was better than all the other gaming headphones in the market at present that I have personally used and I have used a lot of them so this is based on my own personal experience. The lows and mids are clear and crisp, the highs are not shrill even at higher volume making these headphones perfect for whatever genre of music you are listening to.
But this is not the default plug n play experience mind you. You will need to download Asus's own software to enable these amazing features which I would have wanted them to put these in by default but normally out of the box it's soft and needs to be tuned in via their software, ROG Armoury II( More on this later). Everything depends on their software and EQs which can be deeply adjusted based on your own liking and custom profiles whether you are gaming, watching a movie or documentary or simply listening to music. You can easily 1 click change your custom profiles and get the exact sound profile you want at the exact moment.
Bass on default mode is not that high or thumping but is present. The sound is just balanced and nothing extreme on any side. The bass can be adjusted from the software according to your liking and can be boosted as well further even after setting a custom EQ. If you want punchy Bass, you can boost the bass from the software.
Virtual Surround is also present which you have to manually enable from the software, without which sound is just not up to the mark where it should be. So time to talk about it more in detail in the software section.
Talking about the Mic, I did some testing on discord and team speak and my friends over there said that they are not accustomed to such good quality voice over the internet and that I should lower my mic volume. This itself tells that how good the mic is and that there haven't been such good mics on gaming headphones before until now. People usually buy a separate mic like modmic or desktop Mics or professional-grade mics to talk to people over discord/Team speak.
A red color appears on to the of the mic letting users know that its muted. This is a must-have feature in every gaming headphones these days as its a well-added convenience.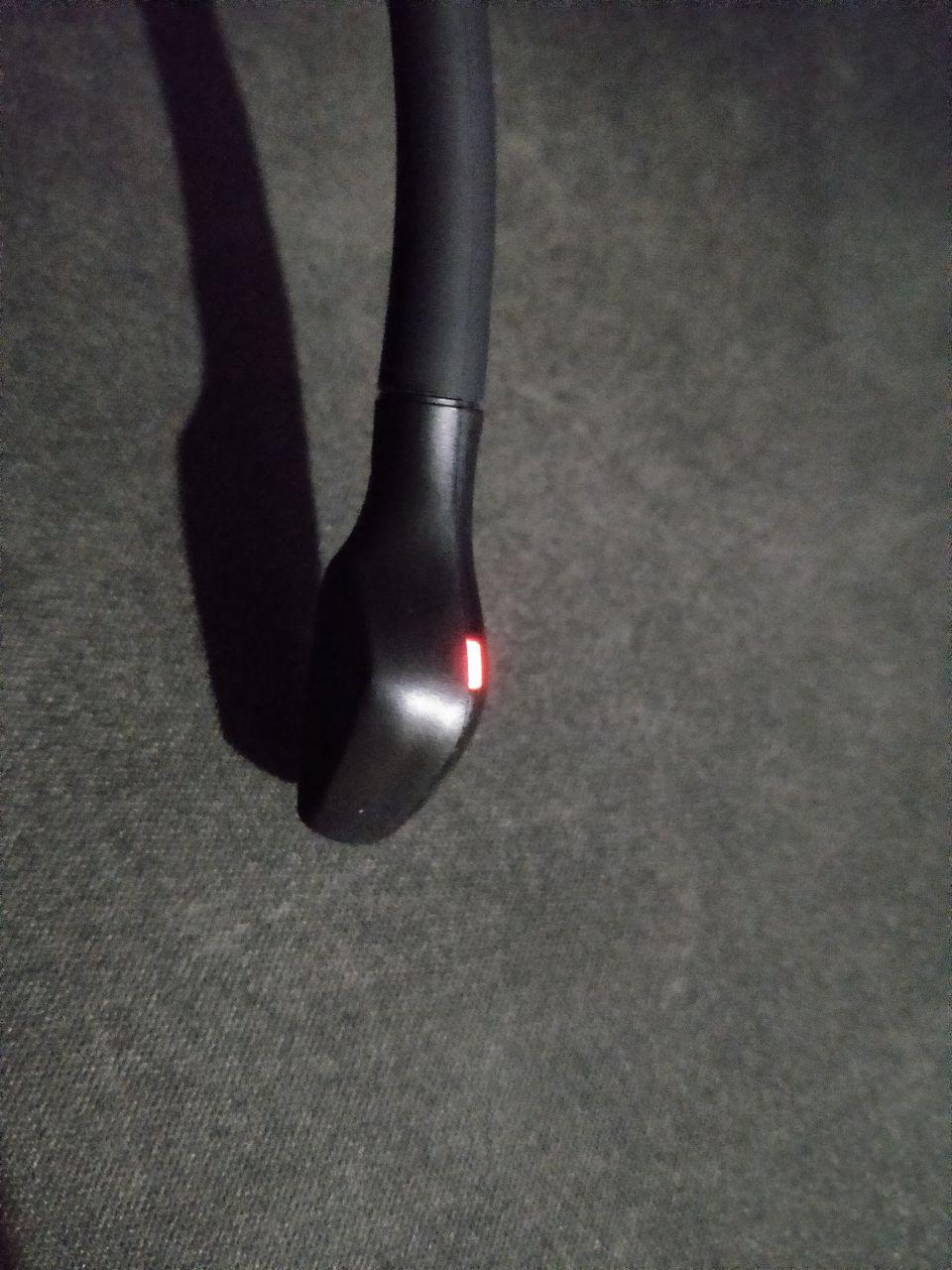 Software
On the software side of things, we have ASUS's very own ROG Armoury II, from where you can control your headphones EQ and sound profiles and also the RGB profiles as well.
Upon opening the ROG Armoury II, you will be greeted with this UI called Sonic Studio where you can change almost all the settings including sound profiles, bitrate, volume controls, custom EQ, Mic volume, Noise gate, compressor, voice clarity, and Bass Boost.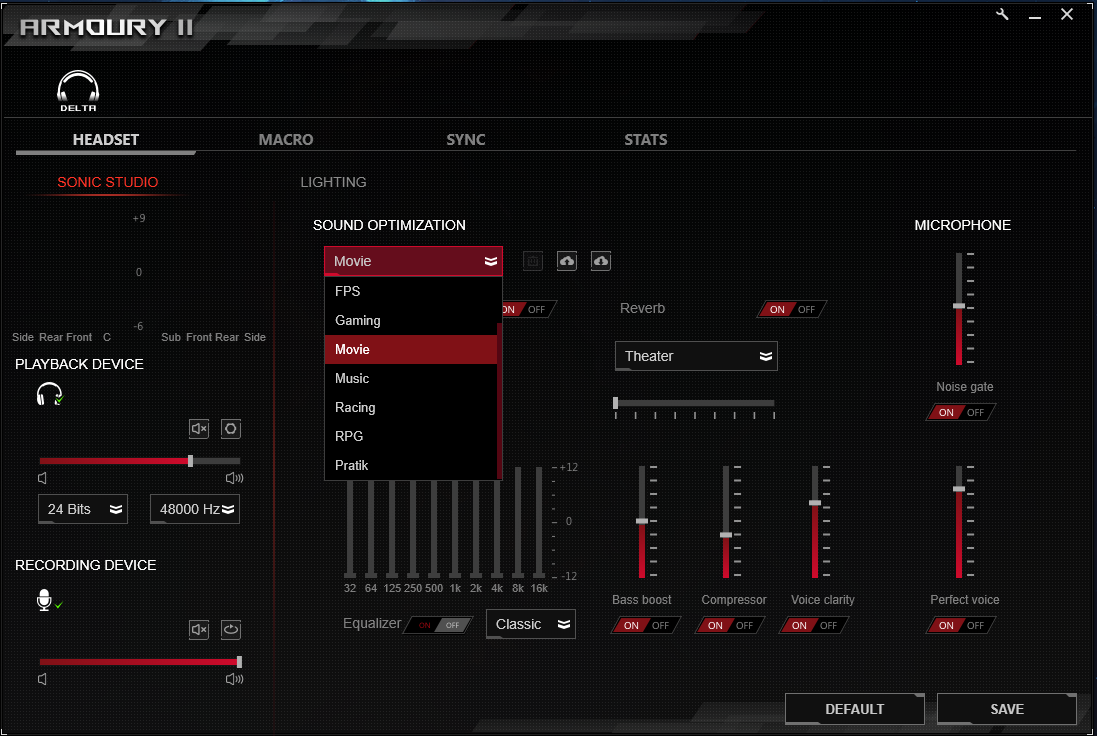 We finally see the Virtual surround option in the software enabling which will give you even more detail in the sound you are hearing, be it in gaming or while listening to music. There is an extensive amount of detail coming out of this virtual surround sound system. We have few already made sound profiles like Gaming, FPS, Music, Movies and also a custom one where you can create your own profile according to your liking and you can save them as well. These profiles can be exported and imported very easily as well on any pc.
Next comes the Lighting tab where you can change the way RGB works in the headphones. You can have a rainbow theme or any static theme of any color that you want and you can save them in the custom profiles on the left side. It is a pretty straightforward process. You can also switch the RGB completely OFF if you would prefer to from the left side present above the volume wheel. You can also adjust the brightness/Saturation of the colors as well.
Pricing And Availability
The ASUS ROG Delta RGB Hi-Res Quad-Dac Gaming headphones are available at a promotional price of approx 15,850 INR in the Indian market as of writing this review which is a bit high but given the in build Quad-Dac and the audio quality performance, this is a very viable purchase for someone who wants everything and anything and has no budget constraints whatsoever.
Buy them from here – ClickHere
Product Page – ClickHere
ASUS ROG Delta RGB Quad DAC Hi-Res Gaming Headset Review
Build Quality -

9.5/10

Comfort -

10/10

Audio Quality -

9.5/10

Aesthetics/RGB -

9/10

Software -

9.5/10
Conclusion
Overall the ASUS ROG Delta RGB Quad DAC Hi-Res Gaming Headset delivers everything that a person might want from a gaming headphone having such a high price. From being comfortable for prolonged use and delivering amazing sound quality to having a crisp and crystal clear voice-over microphone over discord/TeamSpeak, this is certainly the only headset you would ever need which would last you for a good amount of years before you go search for a new one.