GS65 Stealth 9SE
As days go by and the workload/workflow increases, devices around us increase as well. One day, you come to realize that even though, you have a good system capable of running anything you throw at it, be it games or any kind of 2D/3D workload or video rendering, you need to have something that you can carry around with you at work at all times.
The device you want to carry around should be lightweight, powerful and also should work for longer hours so there are almost no interruptions between you and your work/long gaming sessions. For all these marks to tick, you need something that can deliver on all these promises.
Well, look no further, I have with me one of the newest members from the MSI gaming laptop family, The new MSI GS65 Stealth 9SE. It comes equipped with an RTX 2060, an i7 9750H CPU, 16 gigs of ram running at 2666 MHz, 512gb of Nvme SSD, 240Hz refresh rate( yes you have heard that right) screen which has an IPS panel capable of close to having 100% SRGB color accuracy.
Special thanks to the people over at SupremeTechnologies for handing out this beautiful piece of a laptop for this review.
Before I go show you the benchmarks, here is a physical overview of this beast
Physical Overview of GS65
Let's start with the physical aspect/build quality of the MSI GS65 laptop. Its mostly comprised of Aluminum with plastic accents all over it.
There is the usual famous MSI Dragon Golden logo on the top while the rest is all black in color.
There is minimal/almost no flex on the hinge or the keyboard which is one of the most vital things to consider when buying a gaming laptop.
You can turn the hinge of the GS65 laptop with one hand up top which shows that it is done really well. It does not feel weak from any angle and is not loose which means it can be done multiple times showing good durability/longevity.
There are thin edges on both side of the screen while the top and bottom side being much wider for the allocation of the webcam and the branding at the bottom. The bottom part could have been thinned out easily which would have made the GS65 laptop look much better in my opinion.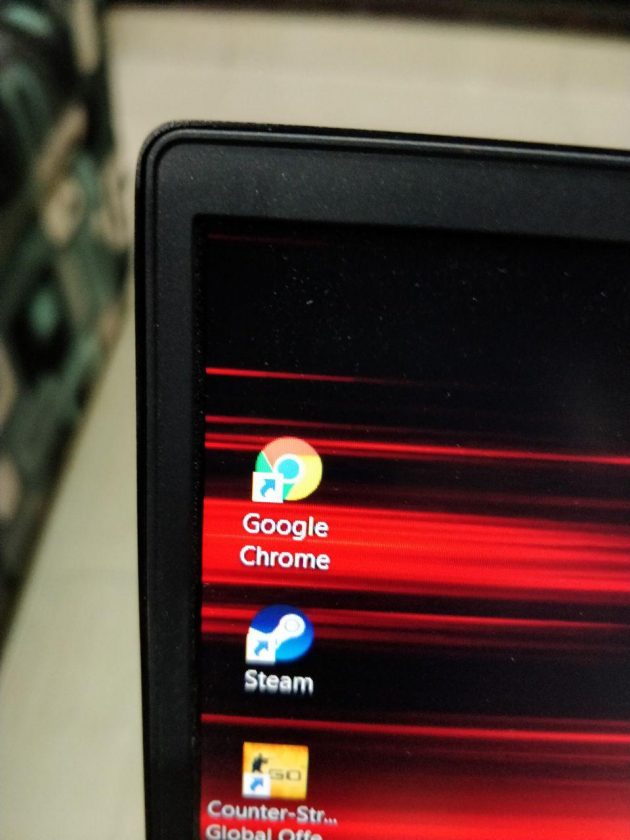 The power key is located on its usual middle place on top of the keyboard which is a rectangle in shape with golden accents near it and has an Led status indicator for the same.
Below it, there are small circular grills which take in cool air from outside and supplies air to the components inside.
The trackpad is big which is really good as it covers a lot of surfaces for you to move around in the desktop. It is a glass surface, very smooth, has windows precision drivers and multi-touch controls as well which is perfect. There are again the same golden accents around the trackpad as well, keeping the golden MSI dragon theme accent in effect. MSI absolutely nailed it in this department.
The speakers are present at the back bottom side of the GS65 laptop which is a very bad place for it if you ask me. They sound terrible, there is absolutely no detail in the sound, it's mostly mushy if you placed it on a surface which is not wood/glass and you will have trouble in listening even if the speakers are all full volume
The rubber grommets present below does a good job of keeping the laptop steady.
Now comes my favorite part of this GS65 laptop, the cooling.
There are a total of 7 heat pipes present in this model which provides ample cooling to the components inside.
The small circular vents present on top of the keyboard takes in cool air and there are 4 big vents present on both left and right sides as well are two more at the backside of the laptop which exhausts hot air out of the laptop.
Overall the temps have been really good for a gaming laptop of this much power, there is ample airflow in between the components and lots of vents for proper exhaustion.
Idle temps were around 40-42 C while gaming the CPU temperature reached almost 90 degrees while the GPU rested at max 80 degrees. Considering the slim factor of the laptop, the temps are not that bad at all. It does not thermal throttle and maintains the same performance even at longer gaming sessions.
Speaking of the I/O ports, on the left side, we have Kensington lock, 2 USB 3.0, Ethernet port, audio in and mic and the cooling vent which exhausts hot air out.
On the right, we have 1 more USB 3.0, Mini HDMI port, Thunderbolt 3 port, HDMI port, charging port and the cooling vents which exhausts hot air out.
The only thing missing here is an SD slot for content creators, photographers which is kind of a must-have at this day and age and especially at this price tag.
We finally come to the keyboard which is powered by the SteelSeries engine for the per-key RGB lighting feature. There is not much of a travel distance between each key and the minimalistic setup makes it hard to be used for gaming especially if you are used to the normal mechanical keyboards which have better travel distance and standard cherry keys.
The layout of the keyboard, however, is good and the SteelSeries engine does a really good job with RGB implementation.
The webcam is present on the top and is the standard average 720p webcam that you will find in laptops, at least its not present below the display which shows your nose instead of your face.
The display is the real deal of this laptop boosting 240hz refresh rate. It has an IPS panel capable of delivering nearly 90% SRGB color gamut, good for doing something like video editing or photoshop related work.
The games I have tested were been played on the 240hz refresh rate and it felt so good just by moving the character around and noticing the sudden change of improvement over the 60 and 144hz refresh rates. Games like CS: GO, PUBG(Steam) and Apex legends are few where this can easily be understood provided you are able to differentiate between 60 and 144. The difference from 144 to 240 is not that huge as compared to 144 from 60 but is still noticeable in a few mentioned games.
Benchmarks
I tested a lot of games on the GS65 laptop, and well it did really well. This 2060 RTX laptop is almost 15%-18% faster than a GTX 1070 Max Q with Raytracing as a feature so it really shouldn't surprise anyone with the benchmarks given below as to how well it performed
As you can see most games did fairly well over 100+ Fps on most competitive titles and over 60 fps on some heavy demanding titles like Shadow of tomb raider and metro exodus, both games using the CPU and GPU power at its peak taking full 100% usage on both of them.
There were no thermal throttling issues with any games tested above and the temp's max reached a temperature of 90 C on the CPU and 80 on the GPU. There were fluctuations here and there on the constantly changing FPS timings but it did not affect the gameplay much, thanks to the 240hz refresh rate of the display which kept things smooth.
Enabling Raytracing on both Battlefield V and Metro: Exodus made frames drop to less than 60 fps which is still fairly playable but it's highly recommended to play without RT to get the best possible gameplay experience.
Software
Let's talk about the MSI dragon center which constantly runs in the background, and comes bundled with the GS65 laptop which helps in managing the workflow.
We have the CPU, GPU, Memory, and Disk menus highlighted on the first tab called " System Monitoring".
Here you can quickly monitor your CPU and GPU temperatures, SSD info, Power plan profile, fan profiles, Ethernet and wifi options.
Coming to the 2nd tab, here you can set different profiles where you can change your DPI for fonts, change the keyboard functions or lock them, enable/disable the webcam and change the true tone color of the display which can be adjusted for watching movies, playing games or while editing videos/ photoshop.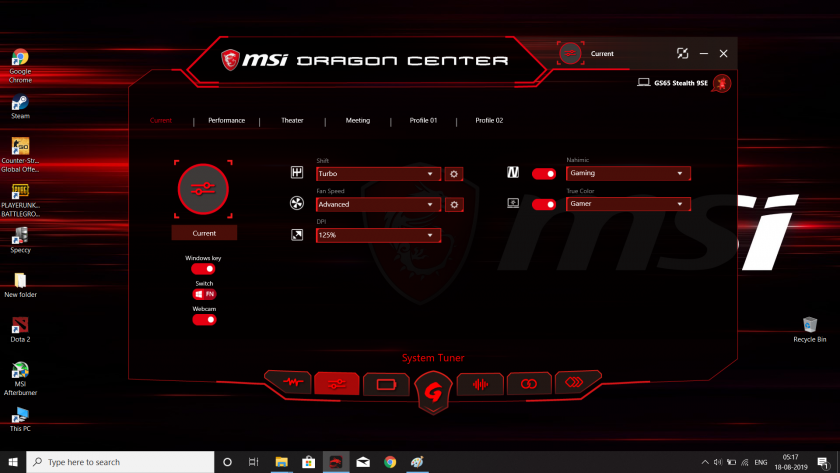 Next up, is the battery master, here you can change your battery profile according to how you want to use the laptop as. If your laptop is being used while on continuos charge then its recommended to keep it at Best for battery mode which is the default option selected and is best to keep the battery health in check
If you are someone who takes the laptop out and uses it where there are no power sockets then select the option called " best for mobility" which will charge the laptop to full 100%.
Last option being the Balanced mode which will charge the battery till 80% and stop there and conserve the battery health without degrading the laptop's current performance.
Next up, we have the gaming mode where you can select different games that are installed onto the laptop and have different profiles for optimizations and tuning which can be enabled from the Tuning tab which I discussed a while back on top
Next up, we have the Voice tab, Mobile center, and the Help guide tabs
Voice tab is exactly what its name suggests, It has a voice boost option which helps in boosting your mic output if its low for some reason, also have a volume slider for the mic and the in-game sound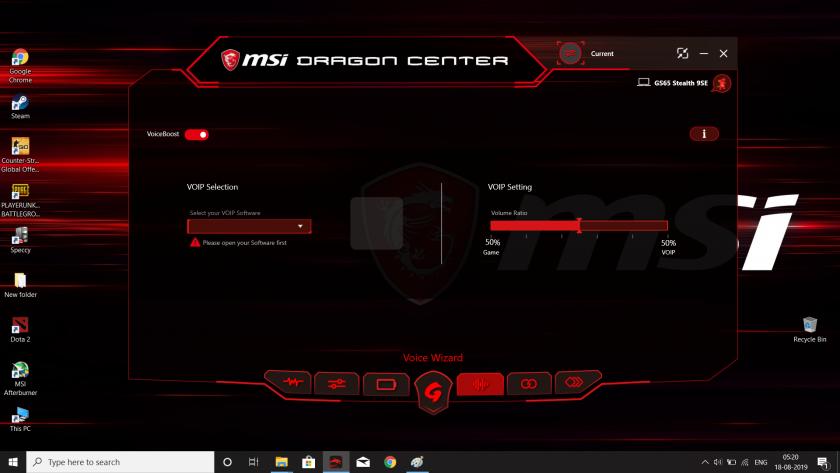 The mobile center is where you can download the app on your smartphone and monitor all the stats of your laptop which on the go or when you are not near the laptop. A pretty little handy feature for the enthusiasts.
Next up, is the Tools and Guide tab, where you can calibrate your battery health and register your brand new laptop for warranty purposes and other handy guides on how to operate the laptop for newcomers
Extra Info
The i7- 9750H CPU runs at 2.6 GHz on Idle and boosts till 4.5ghz while gaming/heavy workloads. This keeps the CPU cool at around 40-45 C during Idle and jumps to 85-90 during the boost clocks of 4.5 GHz
The laptop even after having a shorter flex on the display, manages to open with one hand with less force required showing good build quality.
The keyboard has no flex whatsoever except for a few creaking noises when pushed down at the keyboard
Almost no thermal throttling, which is kept in check by what battery optimizations and tuning you do on the MSI dragon center as it is fairly dependant on it. The default profile is highly recommended for newcomers.
Verdict
All in all, the GS65 is an amazing laptop for gaming and content creation, thanks to the 240hz display refresh and 90% SRGB color gamut.
Price of this beast will set you around 1.89 Lac at the time of writing this review which is fairly steep considering the US price of 1999$ for this same model and make. But if you need something portable and powerful and do not want to leave any expenses behind, then, by all means, this is a great buy for anyone looking for a portable gaming/workstation powerhouse.
MSI GS65 Stealth 9SE Review
Build

Aesthetics

Features/Functionality

Performance

Form Factor

Price
Summary
A slim yet powerful device that you can carry with you at all time at work or at LAN parties without compromising on performance. Only Con of this being the Indian price in which the 2070 version would have been a much better choice but otherwise a solid laptop from all other aspects