ASUS ROG Family
So last week, I looked at ASUS's new lineup of headphones, namely the ASUS ROG Delta and showcased how good ASUS products are when it comes to everything which matters. The price is generally high for these products but is mostly catered to people who generally want to buy something for themselves that would last them for a good number of years and has the best build quality and performance in them no matter the price.
Today, I will be talking about their next product in the same family, the ROG Strix Scope PBT, which is their new mechanical keyboard equipped with Cherry MX red switches and comes with the famous PBT keycaps and see how it fares against the other keyboards I have already tested on my previous articles.
Showcase
The keyboard comes in this beautiful ROG branded box, the same one in which the ROG DELTA's came in. The same black and red theme with the ASUS logo on the top right side.
Inside, you see this black box with the ASUS Logo again, opening which you find the keyboard itself covered in a black wrapper.
Included is also the manual, keycap puller and some extra keys like the Red themed CTRL key and also the regular color CTRL key as well.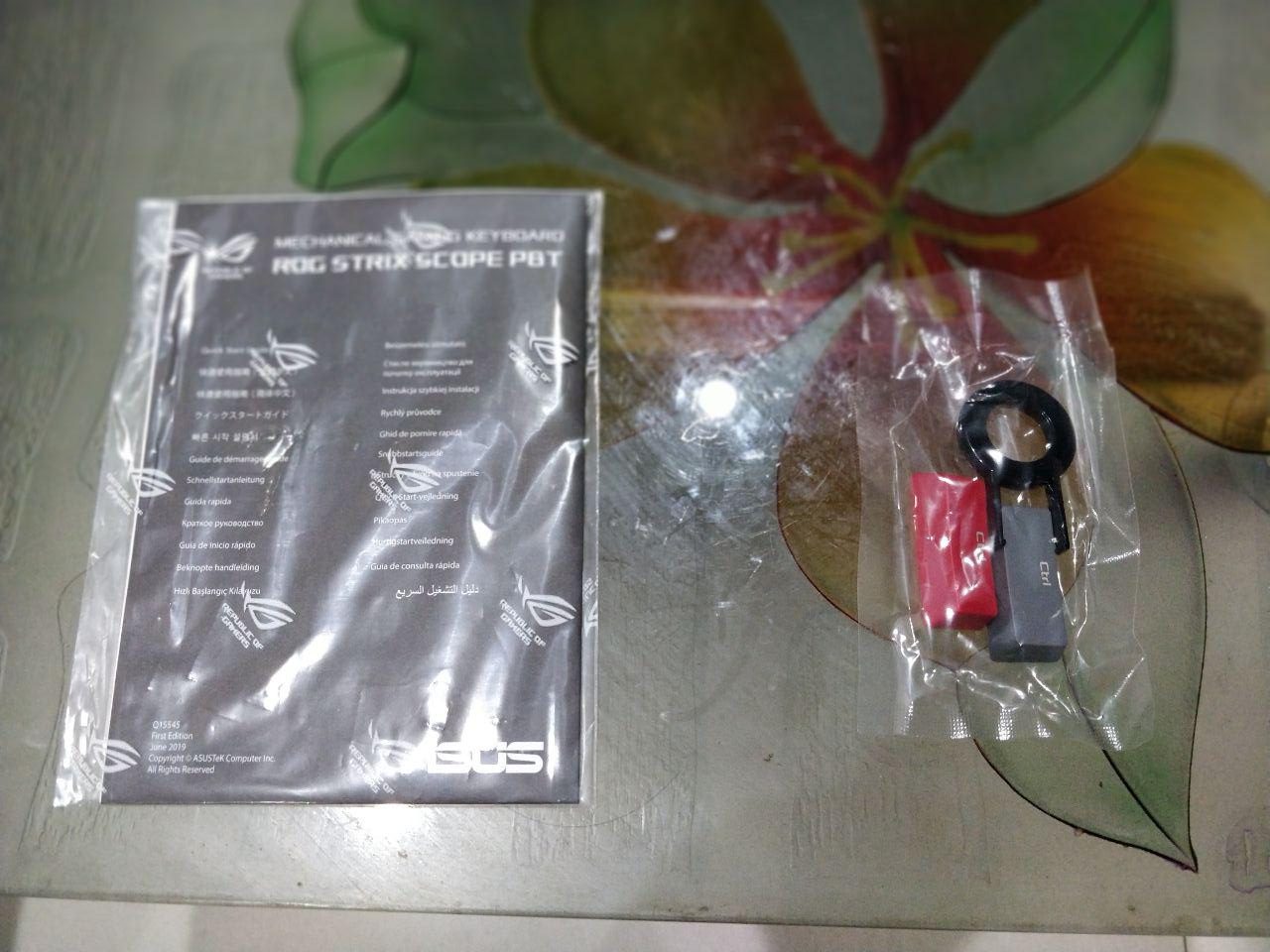 Review
And here is the ASUS ROG Strix Scope PBT keyboard in its full glory. The top plate of the keyboard is made up of Aluminum having the famous cherry MX Reds switches which are linear switches and also produce very little noise as compared to the blue and brown switches.
There are other key variants of this keyboard which include Cherry MX blues, browns, Silent Reds, blacks and Speed silvers as well. I received the Red Variant for the review today.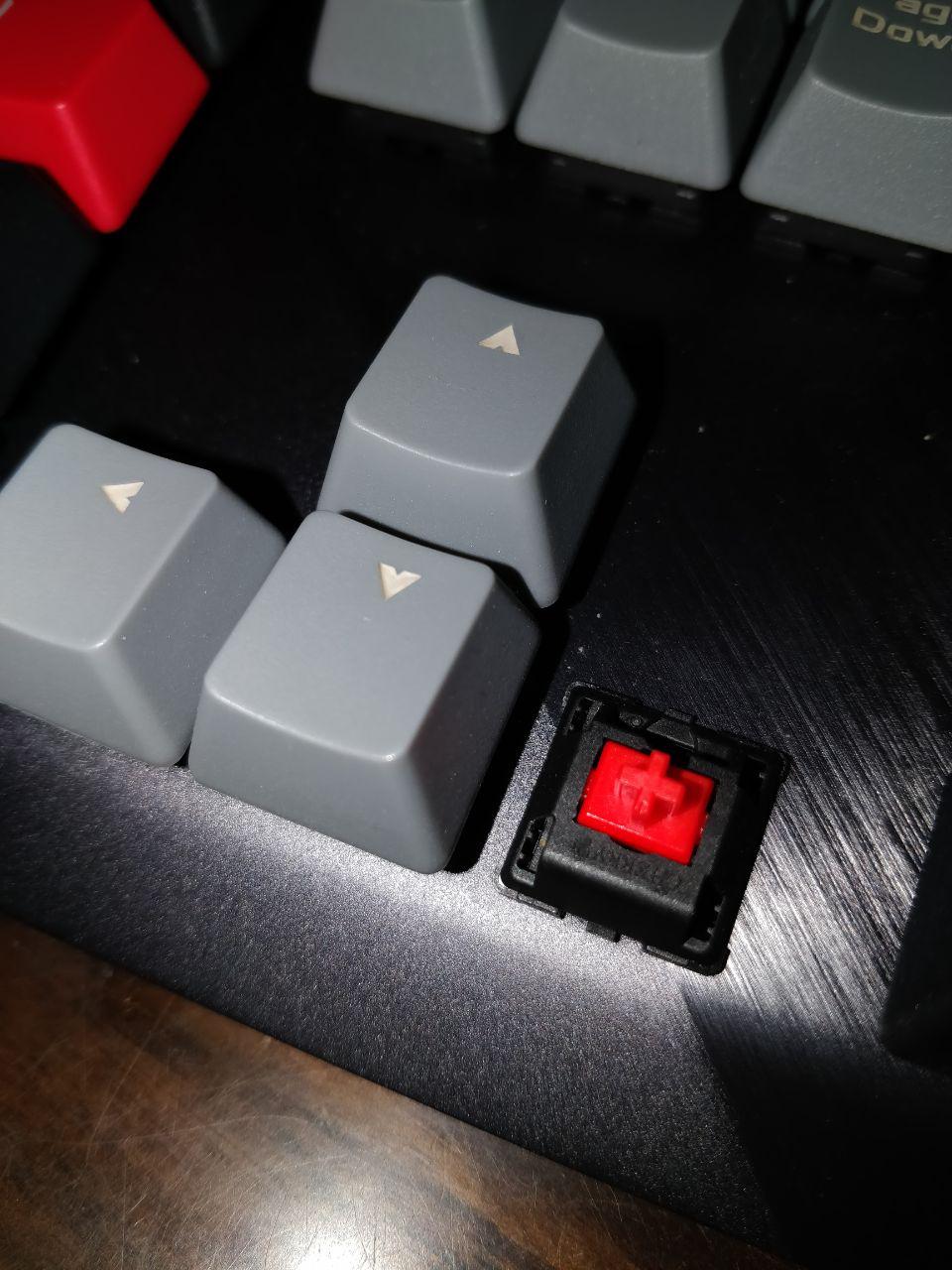 Does it Wobble? –There is a bit of wobble on the keycaps while typing but compared to its other competitors, it's still much better and provides a good typing experience whatsoever. The travel distance between the keys is spacious and makes typing comfortable. The front is clear and big and has a white accent. The color of choice in this keyboard reminds me of ASUS's TUF series products for some reason which is not bad at all.
On top of all this, we have the PBT keycaps which add a matte finish on top to help reduce key font fading/surface wear which generally happens after prolonged usage. In 2019, PBT keycaps should definitely be a norm in mechanical keyboard at this price range so its good to see ASUS having them in this keyboard. This adds a lot to the durability of the keyboard over time.
The ASUS ROG STRIX Scope PBT feels heavy when you pick up and has a solid construction overall and definitely feels premium on the hands.
On the right side of the keyboard, we have five digital indicators and the ASUS Logo. Apart from the usual three indicators already known to us, the other two are the windows lock button indicator which can be assessed by pressing the FN key+ Windows key to lock the windows key down to eliminate wrongful input during gaming sessions, while the other one is an Asus exclusive feature.
The Asus Exclusive indicator is known as Stealth key which when tapped hides all apps and mute audio to give you full control of your privacy. This is a very useful tool to use when you have people around you and you do not want them to lurk around and see what you are doing.
There is also the FN+INS Lock which helps to toggle between normal actions and Media controls making it easier to switch modes between typing and controlling media.
At the bottom, we have the Republic Of Gamers logo in the same font and color matching the keys and is all in caps.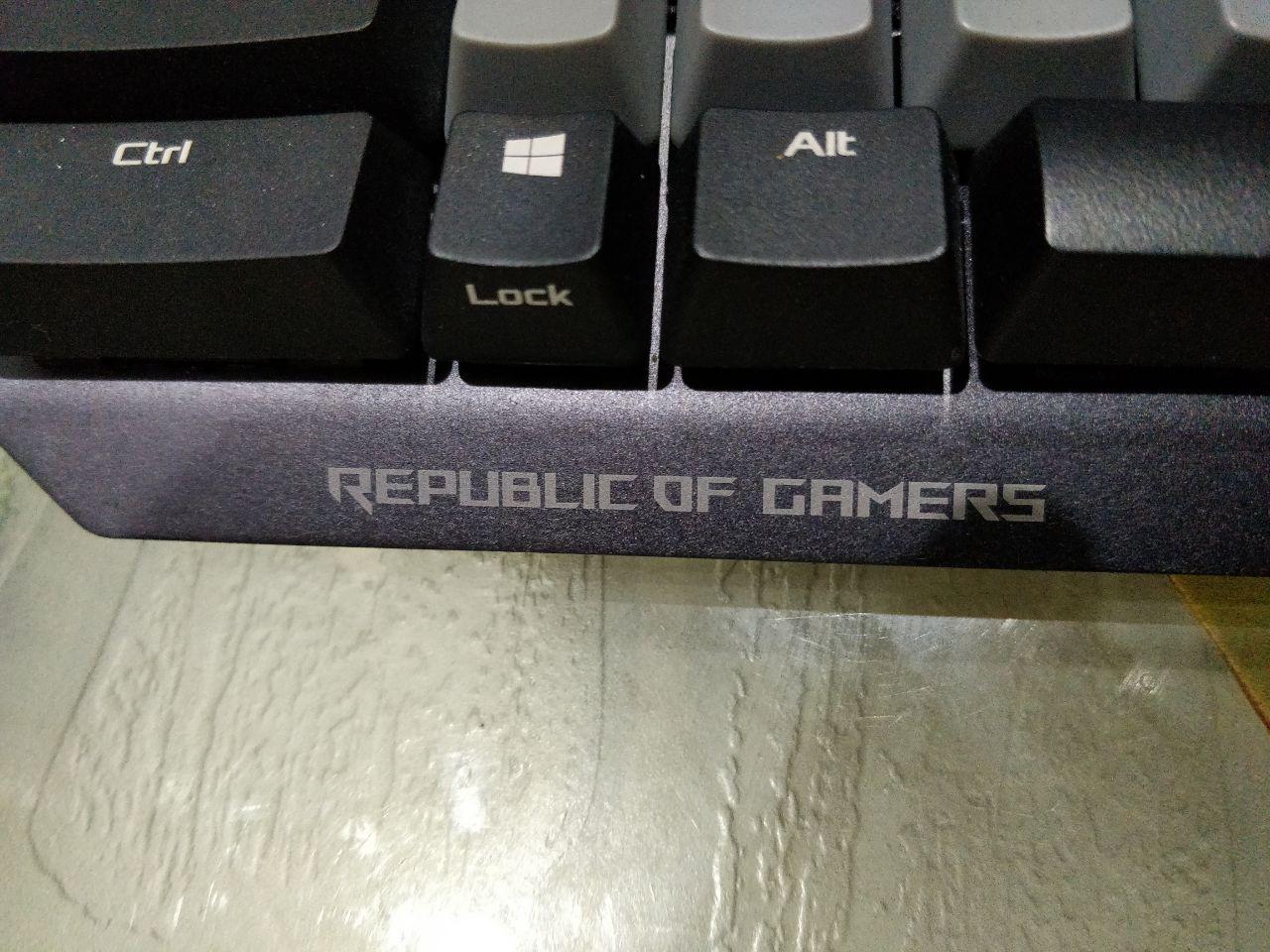 There is nothing on both sides of the keyboard and is completely blank.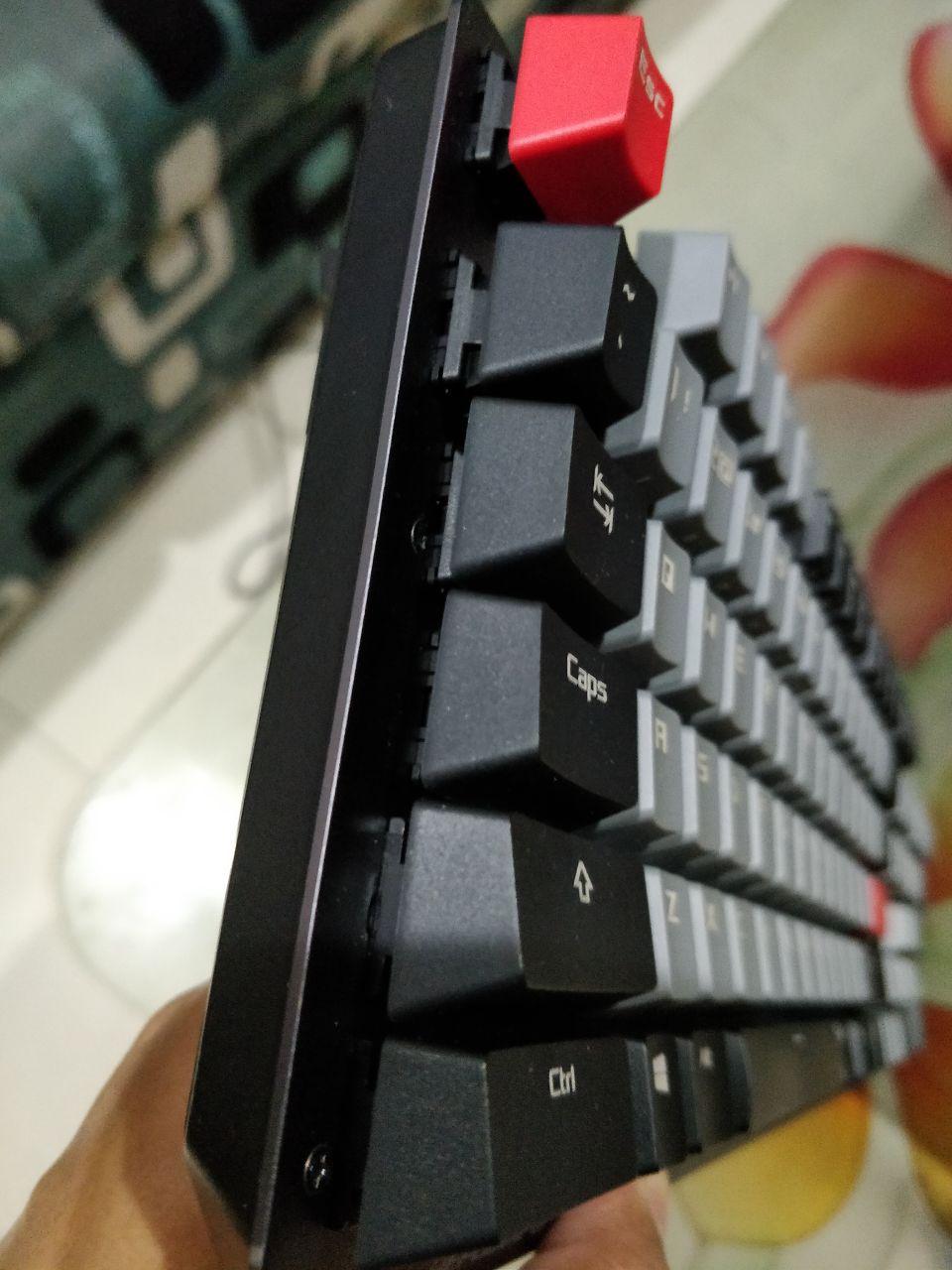 We have 2X wider ESC, Enter and CTRL keys in this keyboard which provides better ergonomics while playing games and is painted Red presenting the brand's ROG color.
At the bottom, we find the feet rest which works as intended and does keep the keyboard intact with almost no unintentional movement at all.
The ROG Strix Scope PBT also comes with a USB 2.0 cable that is not detachable ( though having a detachable USB type C cable would have been preferred to avoid wire clutter and easy installation) and is braided fiber which is 1.8m long and comes with cable management routes to route wires properly according to your needs.
WHAT ABOUT THE LED/RGB?
There are no LEDs or RGB of any kind in this ROG Strix Scope PBT keyboard. The absence of RGB is not an issue for me personally, but having no LED is a deal-breaker for me since not only me but most of the gamers play at night in their cozy rooms with dim lights, and this is where the LEDs come into effect.
Due to the absence of LEDs, it becomes harder to spot the keys at night with the only source of light being your monitor, it becomes bothersome after a while and you feel that due to the absence of an LED, you are not having a comfortable gaming experience as you keep looking down in your keyboard to check what your tapping on half the time and losing your concentration.
Software
Just like the previous ASUS ROG Delta headphones, this ROG Strix Scope PBT keyboard can also be managed by ASUS's proprietary software, known as the ARMOURY II. Here you will be able to create your profiles, create macros and save them for future purposes for different games and also track hardware stats as well.
Since there is no LED/RGB in this keyboard, the SYNC feature does not work, apart from that we have the usual key binding Keyboard tab where we can customize the keys to your liking and save them in a custom profile.
Below we have the gaming mode where you can enable/disable the ALT+Tab feature and ALT+f4 feature while playing games if you need to.
Taking about Macros, the ROG Strix Scope PBT has onboard memory to save up to six profiles so that they can be used anywhere and anytime. In this tab, you will be able to able to create your own custom Macros which can be used for individual games and can be saved automatically onto the onboard memory as well.
Price and Availability
Asus ROG Strix Scope PBT will cost around 9345 INR in the Indian market which is decent given the features and build quality and the fact that you can get the silver speed switches as well in these along with PBT keycaps. But the No LED/RGB may be a big deal breaker for someone who plays a lot during the night with dim lights.
As of now, there are no buy links up but I will update this article once it goes on sale.
Product Page: CLICK HERE
Asus ROG Strix Scope PBT Mechanical Keyboard Review
Build Quality -

9/10

Features/Functionality -

8.5/10

Keys/Keycaps -

9/10

Aesthetics -

8/10

Software -

8/10
Conclusion
Overall  for the price, the ASUS ROG Strix Scope PBT is an excellent keyboard for the price which can be equipped with the best cherry MX silver speed switches and PBT keycaps but the absence of any digital LED/RGB can make or break the decision making of the consumer as it is critically an important part of the keyboard that most brands do not ignore but otherwise it delivers a comfortable typing experience with solid build and aluminum construction which is made to last.