DURGOD
Durgod, a brand not known in India, by most people have started giving review samples to reviewers all around the world. Durgod is known to make really good keyboards and is a peripheral equipment brand established in Zhuhai, China.
Currently, they are in the process of distributing their awesome keyboards worldwide and are looking for distributors from all over to help them with their sales and know about.
Today, we will be taking a look at one of their keyboards. The one I have here is one of their flagship keyboards, The Durgod Taurus K320 Corona Mechanical keyboard. It has a Tenkeyless layout, comes with the super silent and fast cherry MX silver speed switches, USB Type C cable, PBT Doubleshot keycaps and has beautiful white LEDs to complement this small and compact keyboard.
A big shout out to Alisa Feng, Sales Manager for Zhuhai Hoksi technology Co LTD, for sponsoring and sending out this lovely keyboard to us for review.
Packaging & Contents
The Durgod keyboard comes in a very small and compact box and is very light and minimalistic in design. On the top, we have their brand logo in blue.
Opening the box, we find the keyboard manual and the keyboard itself, which is covered by a protective plastic casing to prevent dust from accumulating between keys. This is something every keyboard manufacturer should do as a courtesy to the buyers.
We also have the standard set of keycap puller included and interestingly we have 2 types of USB-C cables as well, one being USB A to Type C and other being Type C. This really goes a long way in showing how much emphasis they have put towards customer satisfaction and durability needs.
Review
Build Quality
The base is made of steel and has almost no flex at all. The keyboard is compact, minimalistic in design and has white LEDs on top of the cherry switches to light up the keycaps. It has a dark grey theme with white LEDs which shines really well through the Doubleshot PBT keycaps.
There is a good amount of gap between the keys and the base exposing the key switches but the way it has been built will make sure that your eyes ignore it completely while you are working or gaming.
There is the subtle and minimalistic durgod branding on the bottom right side which looks really clean and compliments the keyboard nicely. there is nothing on both the left and right side of the keyboard which has really helped it in achieving a compact design.
The layout is TKL (Tenkeyless) meaning no Numpad, making its footprint smaller in size compared to normal keyboards and helps in managing tighter desk spaces.
Keys & Keycaps
The best part about this durgod keyboard, are the keys and the keycaps.
This keyboard comes equipped with Genuine cherry MX Silver speed switches and also has PBT double-shot keycaps which really helps ease the typing experience and also prevents any kind of oil/grease which comes from the user's fingers onto the keycaps and the letters wont fade away thus making it really durable. The plastic keycaps are also translucent, the font on the keycaps are simple and the backlight shines beautifully through them.
The cherry MX Silver speed switches are really silent, fast and also are very pleasant to type (depending on who is using the keyboard). Personally, I like this kind of switches and keycaps and coming from cherry MX Blue switches, I can clearly see a big difference. My typing has improved over time and I am writing more words than before as well
There is a good amount of spacing between the keys, helping you to type comfortably for hours and not prevents from doing any kind of typing errors along the way.
There are four small lock indicators above the arrow keys and I personally did not like them at all. They could have made them a bit smaller in scale since it does not go well with the overall aesthetics of the durgod keyboard. But this is just my opinion and it may vary from user to user.
Bottom/Back-side
The keyboard comes equipped with a couple of rubber tips to prevent the keyboard from accidental slips off the table and has a step up feet on both sides with rubber tips and comes with two different height adjustments as well.
There is also a cable management slot on the bottom to manage the cable and avoid clutter which is a welcome addition as well.
There is USB Type C port which is good to see and we get 2 included cables as I mentioned before which fits nicely into the keyboard type C port. Almost every mid-tier to high tier keyboards should come with USB Type C as a norm these days, glad that Durgod included them in this keyboard.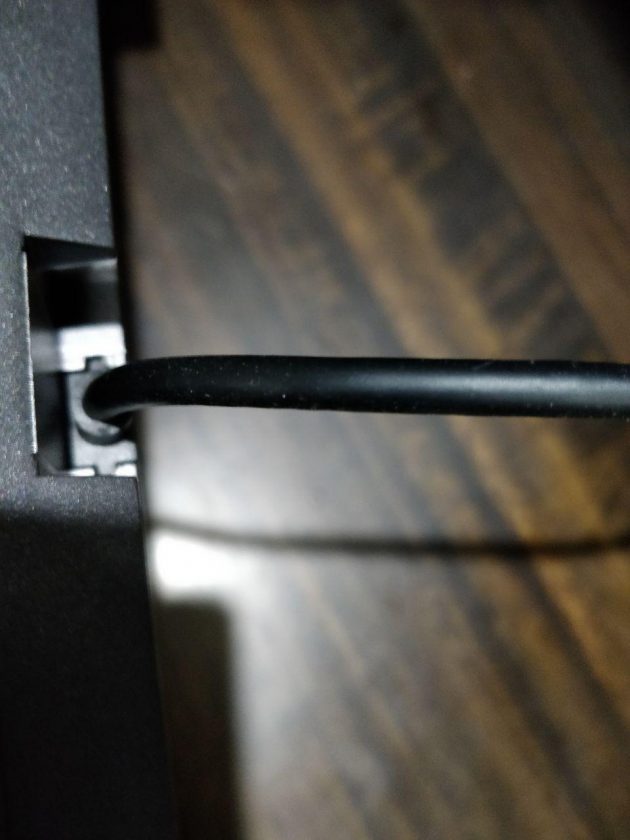 Functions/Software
Pressing down the Fn key showcases few keys which have certain functions attached to them by default as you can see below.
We have the windows Lock button feature, brightness control and on/off switch as well as other multimedia related functions attached to the Fn key.
All these features get highlighted when you press it which really helps you to use them even in a dark environment.
Pressing Fn and INS, Home, Del, END and such keys helps change the different themes/lighting customizations. This can also be controlled via durgods very own Zeus engine software which I will come on to next.
Software
Durgod has its very own Zeus engine software, which is required to be downloaded from their website. This software help in further customizing the keyboards functions such as different profiles/ custom key functions/ macros.
When you first open the software, you will be greeted with the home screen which showcases all their recent products.
Clicking on the keyboard tab, we find our keyboard, ready to be experimented with.
Here make sure you create your own profile first before doing any changes since there is a default profile already in use and its recommended to not change anything in it.
We can select any key we want and can change the way it behaves/functions. It can be changed to anything that you want and all keys are fully customizable.
Next up we have the lighting tab, where the theme of the while led effects can be changed. We have the brightness slider as well, which can also be controlled directly by pressing Fn key+arrow keys up and down to increase or decrease the brightness.
Next, we have the macro tab, where most of the custom users will be going forward to. Here, you can register your own functions/macros and record and store them in a new profile. You can also import/export your own self made macros as well if you want.
Lastly, coming to the performance tab, we see four different options, to disable certain Windows features that sometimes mess while you are gaming and can be turned off if needed.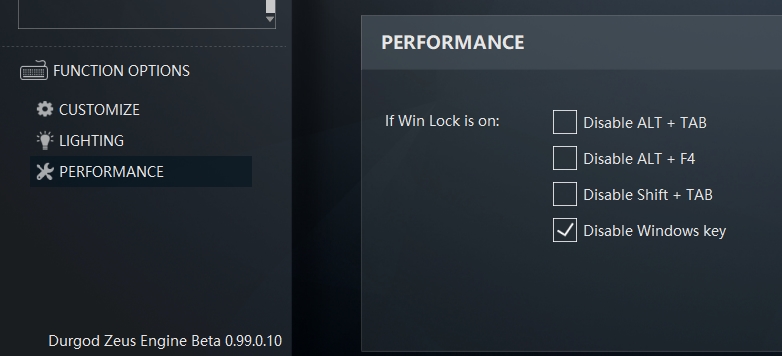 Pricing/Availability
The Durgod Taurus K320 Corona Keyboard is not available in India since they are looking for distributors to help them sell their keyboards here.
This very unit costs around 150$ US which is equipped with silver speeds switches, TKL layout, USB Type C port, and Doubleshot PBT Keycaps. This is one of their flagship keyboards and it would have been really good to see these here in India, even though there is not much of a demand when it comes to high tier keyboards.
We will let you guys know when these hit the markets here in India and we will update this article as soon as possible.
Durgod Taurus K320 Corona Keyboard
Build quality/Layout

Aesthetics

Performance/Functions

Backlight

Software
Conclusion
The Durgod Taurus K320 Corona Keyboard is one of a kind keyboard which has everything that a keyboard enthusiast would want from one. The silver speed Cherry MX switches along with Doubleshot PBT keycaps make the typing experience smoother, faster and also keeps the tone down low and quiet making it a perfect buy for anyone looking for a high tier keyboard in China( For now). The White LED compliments the keyboard nicely and shines bright through the famous keycaps. Hope someone sees this and takes up distribution here in India and promotes such good keyboards.