Introduction
Cooler Master has recently launched its new lightest gaming mouse, the MM710 weighing at only 53gm. This new honeycomb design has been very welcoming among both the competitive gamers as well as the casual gaming crowd especially in 2019.
Generally, gamers usually like heavy mice since it helps with the grip and help stabilize their aim while playing any game, be it competitive in nature or just another AAA game.  But things have started to change drastically over a period of time after the launch of the Glorious Model O Mouse.
Cooler Master saw this new potential of light mice and therefore came up with their very own product, the MM710.
Packaging, Showcase, Physical Overview
The MM710 comes in a small box with no unnecessary clutter in this purple cooler master themed box
Opening up the box, we find the MM710 itself covered in a small packet and with it an extra pair of bottom PTFE grip feet as well, for once they wear off after prolonged use which is good to see.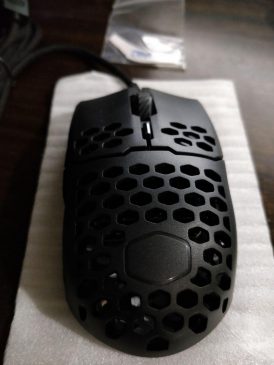 The mouse is powered by a USB cable and the cable is what they call "Ultra weave" in design which kind of looks like a braided cable but is a bit lighter than that and does not weigh much which provided more flexibility during gaming sessions.
Review
The MM710 from Cooler master has a PMW3389 sensor, weighs in only 53gms and is ambidextrous in design. It has a honeycomb design, the same as the Model O from Glorious but weighs less than it as well which makes it even lighter without applying any mods to it.
The Minimalistic Cooler Master logo is punched in between the ambidextrous design which gets covered while using and there is no RGB or any kind of LED present as well which is fine given the price of only 4000 INR which is I would say affordable compared to the Model O which is 5000 INR and comes with RGB. In the end, it will be all about preference.
Build
As someone like me who has used heavy mice till now, it wasn't really a challenge at all. To my surprise, I got used to it the same day I started using it. I did not feel any difference in my aim but the major difference was its weight. The build is ABS plastic and the insides are filled with dust and Spill "resistant" coating on the PCBs to prevent any water spillage and dust accommodations.
I realized that I was now able to give in more time using the mouse cause of it being light and it provided a bit more comfort than the mouse I normally use which is the G400s from Logitech.
The left and right clicks have good distance between them to separate the two and I had no issues in miss-clicking even for once during my usage.
The scroller is smooth and has a soft lock/user movement like other mice's, but no manual mode where you can keep scrolling with a single push by removing the lock feature which is understandable.
There is a DPI switcher below the scroller that changes DPI between different levels which can be customized on the fly in Cooler Masters own MasterPlus software( which I will get into later).
There was no flex/wobble in my unit that I received, meaning Cooler Master has fixed the issues that were present on the non-retail units which are good to see.
There are 2 buttons on the sides which can be mapped to do whatever you want. By default, they function as back and forward actions in your PC, be it chrome or any file explorer folders that you may be using.
The top ambidextrous design is also present towards the right side which adds a pleasant look to its design.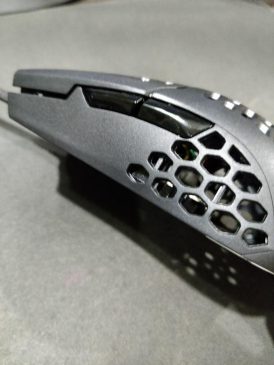 The ambidextrous design is present on the right side as well with no extra buttons.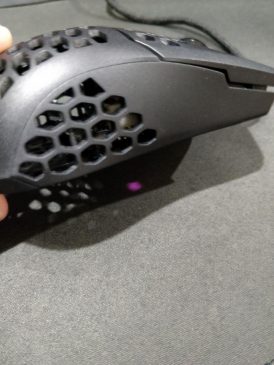 The MM710 is powered by the PMW3389 sensor, it's powerful boosting 16k DPI, which most users won't be using as gamers normally use somewhere around 400- 4000 DPI depending on the kind of players they are ranging from Low dpi to high dpi player or Assault/Sniper/Support class.
The tint of ambidextrous design continues on the bottom side as well as completing the entire aesthetics of the mouse.
The PTFE grip feet at the bottom ensure that you are able to have a solid grip while you're aiming or moving your mouse around during heavy gaming sessions and the ambidextrous design provided added comfort to the grip thus providing very good gaming experience overall.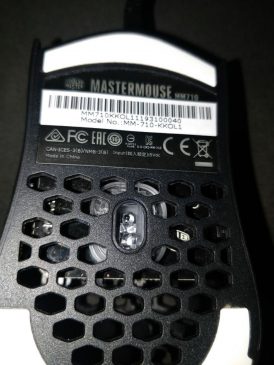 Software
Cooler Master has its very own software, called the MasterPlus. The software handles all their peripherals and provides all kinds of information ranging from the DPI in use, Macros, Mouse button response which ranges from 4ms to 32ms along with a double click function which is basically the time required to open a certain file/folder on the Operating system.
All the buttons present in the MM710 can be changed to whatever the user wants just like any other mouse out there.
The software UI is simple, clean and easy to understand and has not crashed even once during my usage.
Here you are able to change all the settings of the MM710 like making 5 new profiles for different games and having different DPIs set for them or mouse button response times.
Different macros can be recorded as well for different games to make gaming experience simpler and easier.
Pricing
The Mm710 from Cooler Master is priced at around 4000 INR which is a great price for the Indian market. A mouse so powerful yet light in weight coming at such an affordable price makes this mouse a Value for money product in my books.
Cooler Master MM710 Gaming Mouse Verdict
Aesthetics

Build

Buttons

Cable

Sensor & Performance
Summary
We highly recommend the MM710 from cooler master for anyone looking for high performance, no emphasis on RGB whatsoever and a lightweight mouse which is more than capable of handling competitive gaming and an expert in handling the users comfort while working at all times. For the price of 4K INR, this is the most VFM product a light mouse can ever get while having such strong performance.