Introduction to Circle
At this day and age, everything comes down to branding when it comes to buying any tech products or hardware. Similar is the case with all its accessories including keyboards, mices and headphones and similar products.Circle gaming, a brand not known to most people or to some as being termed as "irrelevant" comes with its brand new set of keyboards in order to vow its customers.
We have a lot of keyboards from different brands right now , each with its own unique features and set features, some having a much better build done for better durability, some have better key switches, some having some crazy RGB going around while some giving importance to some other side features which make their products unique.
Today, we will be looking at their new Squadron MX RGB Mechanical keyboard and see if it has what it takes to compete with other similar products coming at a price range of around 5500 INR Approx at the time of writing this review.
CONTENTS
This is the retail packaging in which their new Squadron MX RGB mechanical keyboard comes in. The unboxing experience was similar like the Galax Xanova's which we have reviewed Here and everything is very similar to every aspect in terms of packaging inside and contents. The keyboard itself comes in a protective wrapper and also comes with a manual on how to control the RGB using the Fn function in the keyboard. Also note that, there is no software for this keyboard unlike the Galax Xanova's so everything is controlled directly from the keyboard only.
IN-DEPTH REVIEW
At its very first boot up, the keyboard shines with its glorious RGB effects in its entirety with a random wave of different variants of colors which is its default RGB state. The keyboard we got for review has genuine Cherry MX Red switches in them (blue is available as well). There is very minimal sound as compared to blue keys since these keys have less travel distance and they are plastic.
The base of the keyboard is solid with brushed aluminum finish and looks very durable . There is no physical volume scroller in this keyboard on the right side as compared to the Xanova Pulsar from Galax but what it lacks it covers it up from having such an amazing build quality and not plastic unlike The Pulsar. We will talk about RGB in depth further down in this review.
The keyboard is compact, has a decent footprint and is slightly bigger than the Galax Xanova pulsar and is heavier as well, thanks to the aluminum base which is always a welcome addition.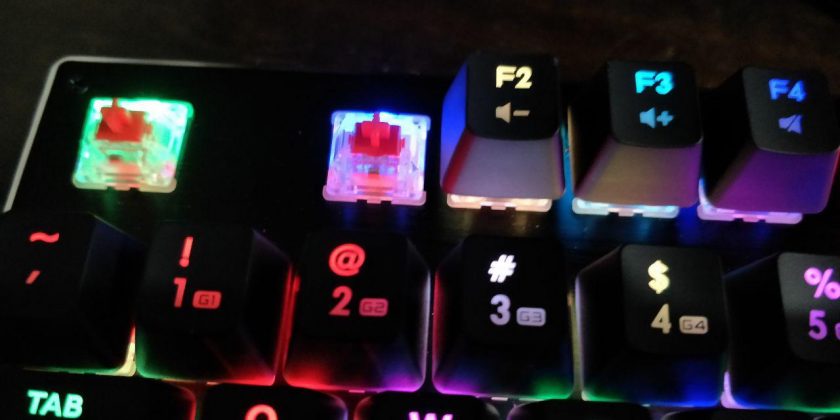 There are a lot of functions present in this Circle keyboard which can be triggered by pressing the FN key and consecutive keys as can be seen in the above picture where F1, F2, F3 and so on have their own function and so does HOME, INSERT, DELETE and other keys as well. What every button does is mentioned on their manual which is given in the box.
Travel distance between the keys is decent and the typing experience has been fun as i have been using it since the past few days and didn't have any issues with it.
The back of the keyboard have all the usual bells and whistles like drop down rests which slants the keyboard at a good angle for a pleasant typing/gaming experience. The cable is Braided and has a cable management block which is separated into 3 different sections. Depending from which side you want to route your cables, the cable management can help keep the wire in an orderly fashion and keep it from bending from any kind of external force.
On top of the arrow keys, we see the brands subtle logo and branding.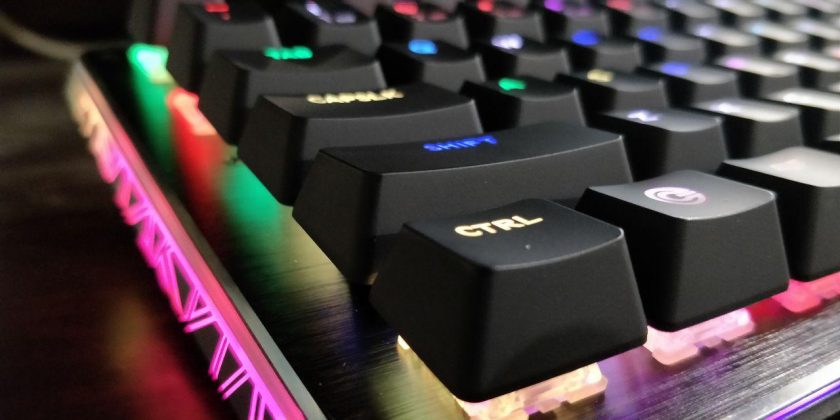 RGB
Now, lets talk about the RGB segment of this Circle keyboard, the second main reason why anyone would buy this especially if the customer loves RGB over any other additional/irrelevant feature.
The keys themselves have single key RGB in them and all the different forms of RGB can be controlled from the keyboard itself, there is no such light bleeds from the keys and they just look great.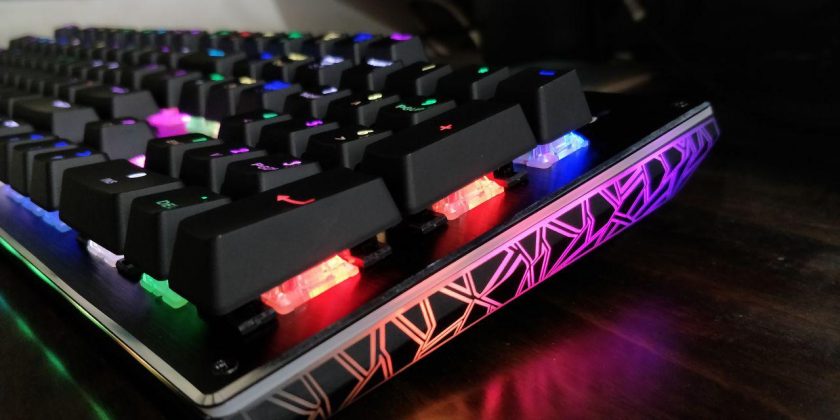 Now comes the unique aspect of this keyboard, the sides. There is a unique sketch done on both sides of the keyboard which RGB infused inside to give it a "broken glass" glow look to it which seems good. This is present on both sides of the keyboard and also can be controlled by the keyboard using the DEL, INS, HOME and similar keys.
Different functions of the RGB include changing the colors to multi or even single color if you so prefer and also the speed on the theme which is going on at that time. Both the key RGB as well as the side RGB and the entire square segment of the RGB present on all sides can be controlled as well including the color and the speed. Both of them can be completely switched off as well if you prefer not using them for any situation.
Conclusion
If you are someone who loves mechanical key switches but also want a solid durable keyboard along with some RGB going around, then this Circle keyboard is for you.
Coming at a price point of around 5500 INR approx at the time of writing this review, its a fair price to quote for this Circle keyboard given the solid Aluminium base and all the RGB craze from all the sides of the keyboard. It would have been really good to see additional features such as a physical volume scroller on this as it would have been a solid addition to this keyboard.
Price could have been slightly less at around the 5K price point which could have directly competed with the Xanova Pulsar keyboard where you would have to do the most difficult choice of choosing function over RGB and solid build at the similar 5K budget.
That is all for this review, i really like this keyboard and it has been a very close keyboard to be a perfect choice for anyone out there under the price segment. For someone like me who uses the physical volume scroller a lot, the exclusion of such effects me but it may not effect others as thy may not use them as much.
CIRCLE GAMING SQUADRON RGB MECHANICAL KEYBOARD
Features/Functionality

Build

Aesthetics

Lighting
Summary
Solid build, RGB and Genuine cherry Mx switches makes it a perfect combo of a keyboard to have