Introduction
Nvidia recently came up with their new lineup of cards, namely the GTX 1660 and 1660Ti to compete against the AMD counterparts on the low-end spectrum. Today, they released a follow up of their newer Superseries (already present on the RTX series as 2060 Super, 2070 Super, and 2080 Super) card known as the GTX 1660 Super.
Now, from the name itself, one can easily understand that it's meant to replace the RTX 2060 in terms of performance but at a lower price with the exclusion of Ray Tracing technology. Since the same thing was done to the RTX 2070 and the RTX 2080 with the launch of new Super cards. With that out of the way, let's get into why you are here for! The Overview and benchmarks. Today, we will be looking at the AIB partner, INNO3Ds version of the GTX 1660 Super.
 Key Specifications
Video Memory: 6GB GDDR6 with Turing shaders at 192 BIT supporting DX12
Interface: PCI-E 3.0 x16
Power Connectors: 1 × 8-pin
Recommended PSU: 450 W (Even though we would suggest getting at least a 500W of 80+ efficiency PSU)
Display Outputs: DisplayPort 3 × (DP 1.4a)
API Support: DirectX12.0 and lower
Shader Model: 5.0
Base clocks: 1530 MHz
Boost clocks: 1785 MHz
CUDA cores: 1408
Physical Overview
Opening up the box, we find the installation kit and the manual, Pretty standard stuff like the previous cards. Removing them we find the GPU itself, neatly wrapped around the usual protective plastic and around black Polystyrene to safeguard the GPU from moving around.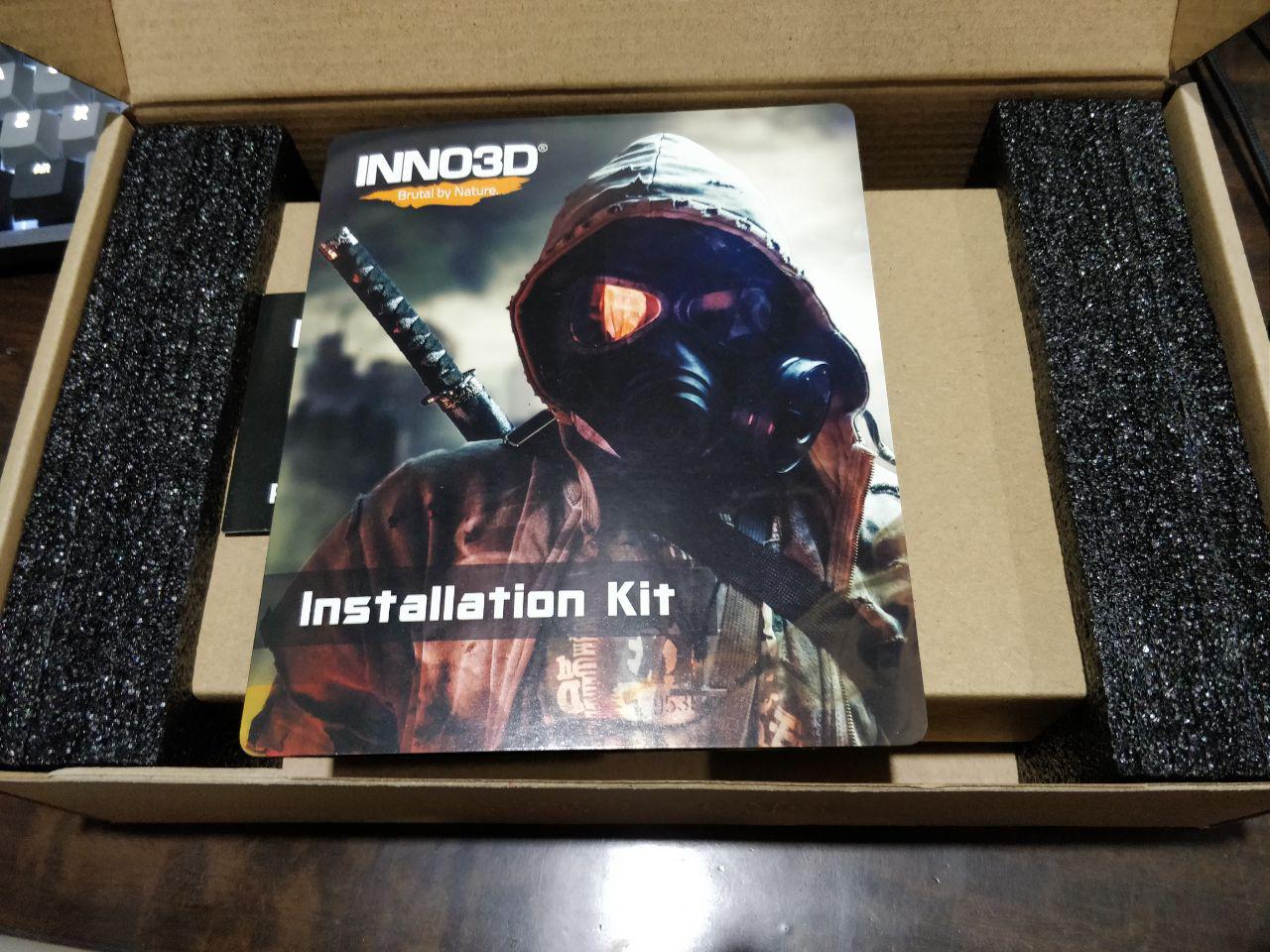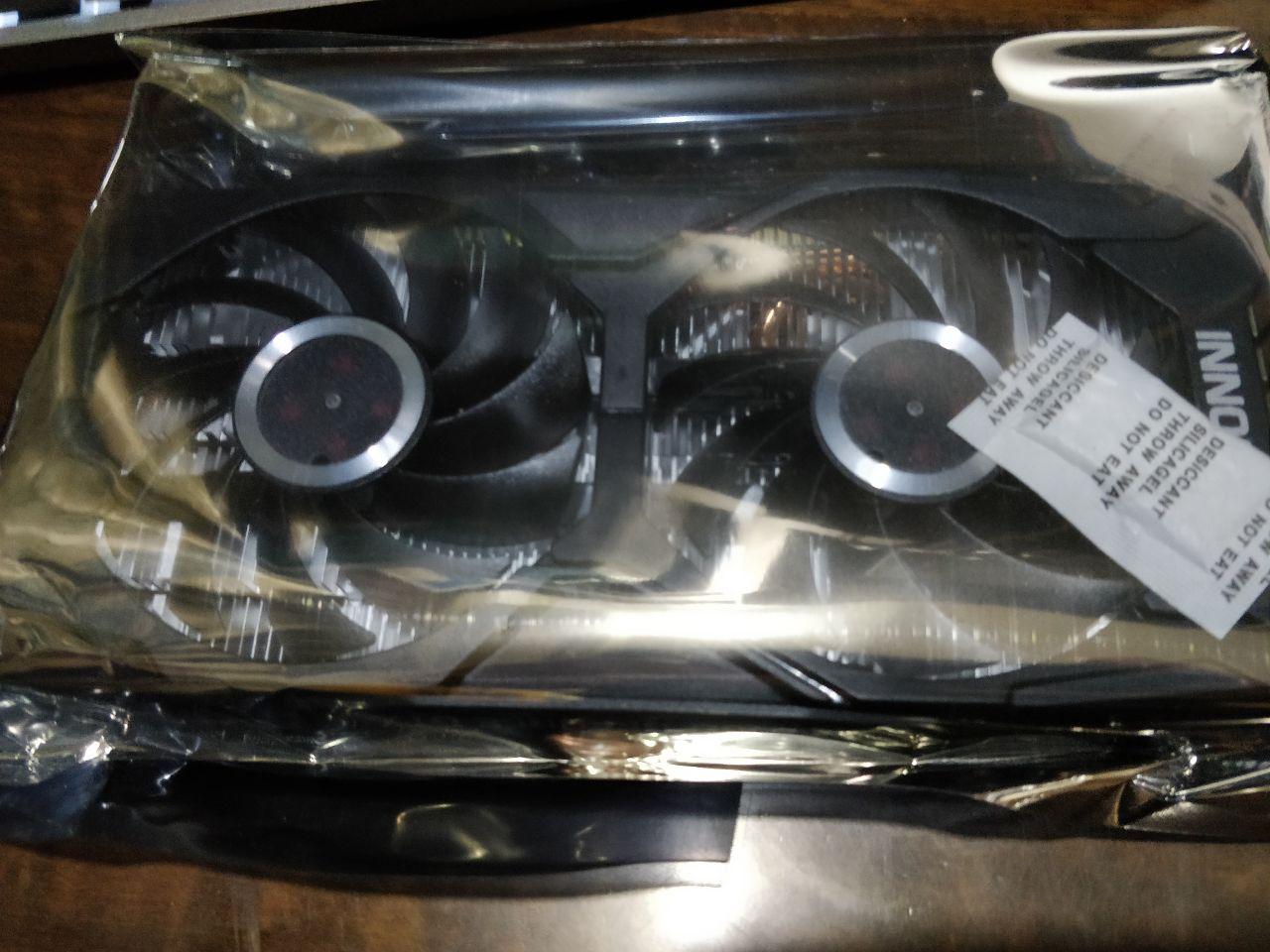 After removing the plastic, we see the card in its entire glory. The card design is very simple with dual fans on top and the INNO3D logo on the left side. The whole body is made up of plastic and is black in color excluding the backplate which we will talk about later.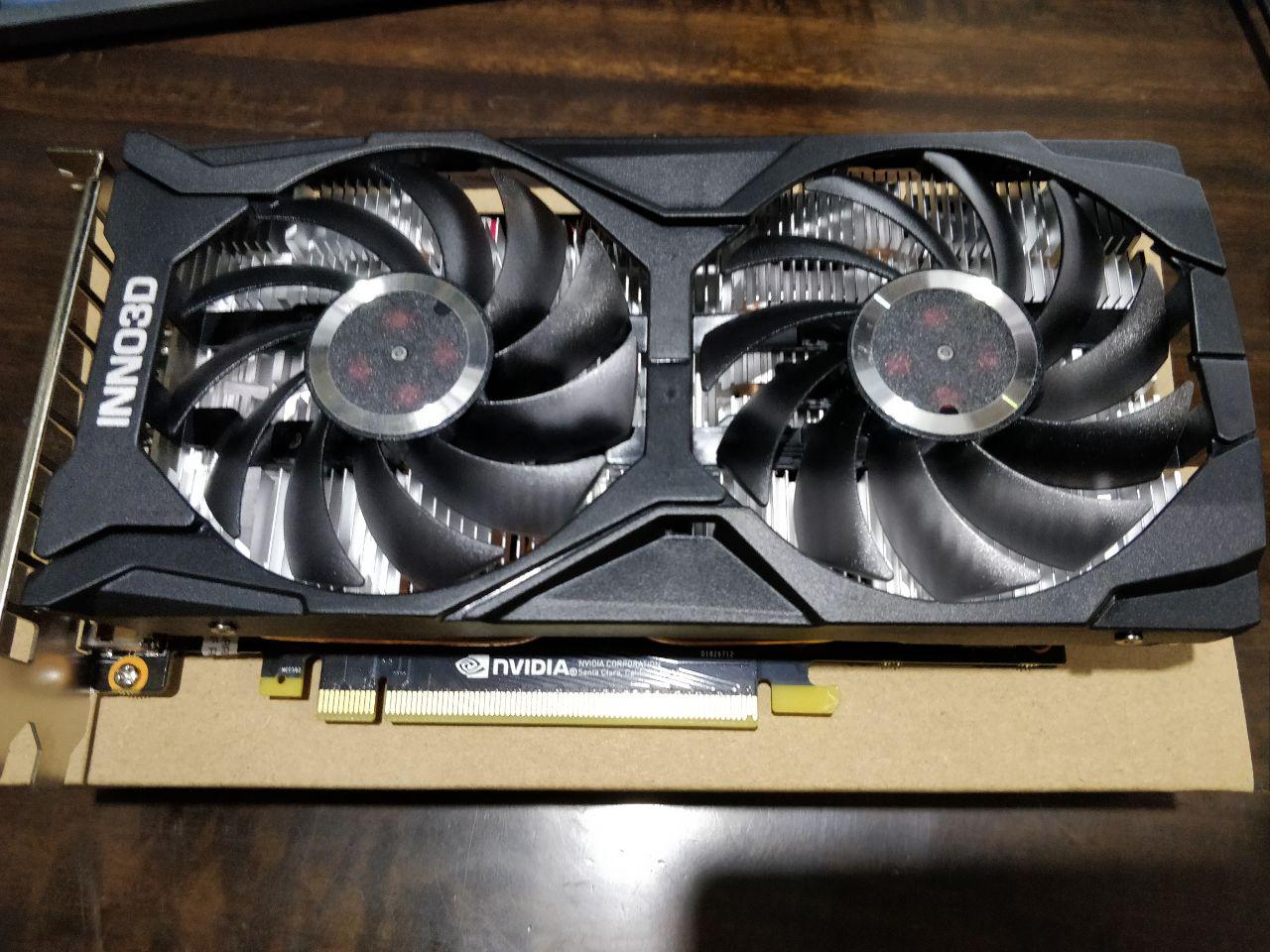 Moving the card around the copper cooling heat pipes are visible, attached to the top fans.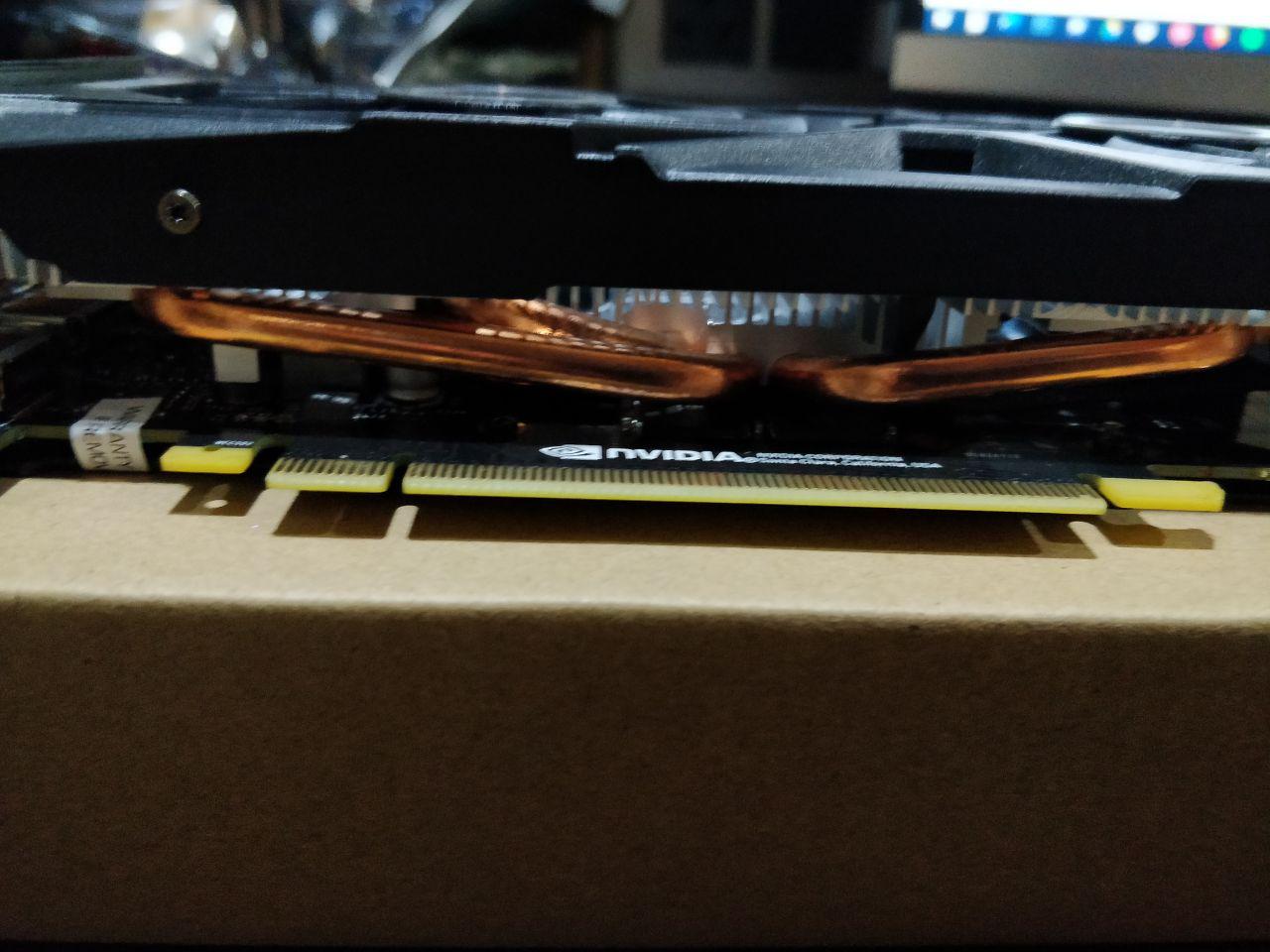 On the other side, we see the 1X8 power pin needed to power up the card. There is also the INNO3D Geforce GTX LOGO with white accents on the bottom. There is no RGB or LEDs of any kind in this card given that it's 2019, it's certainly not something we would expect an AIB to do but if it's making up for it in the performance department with respect to price, then it should not be a major concern to anyone.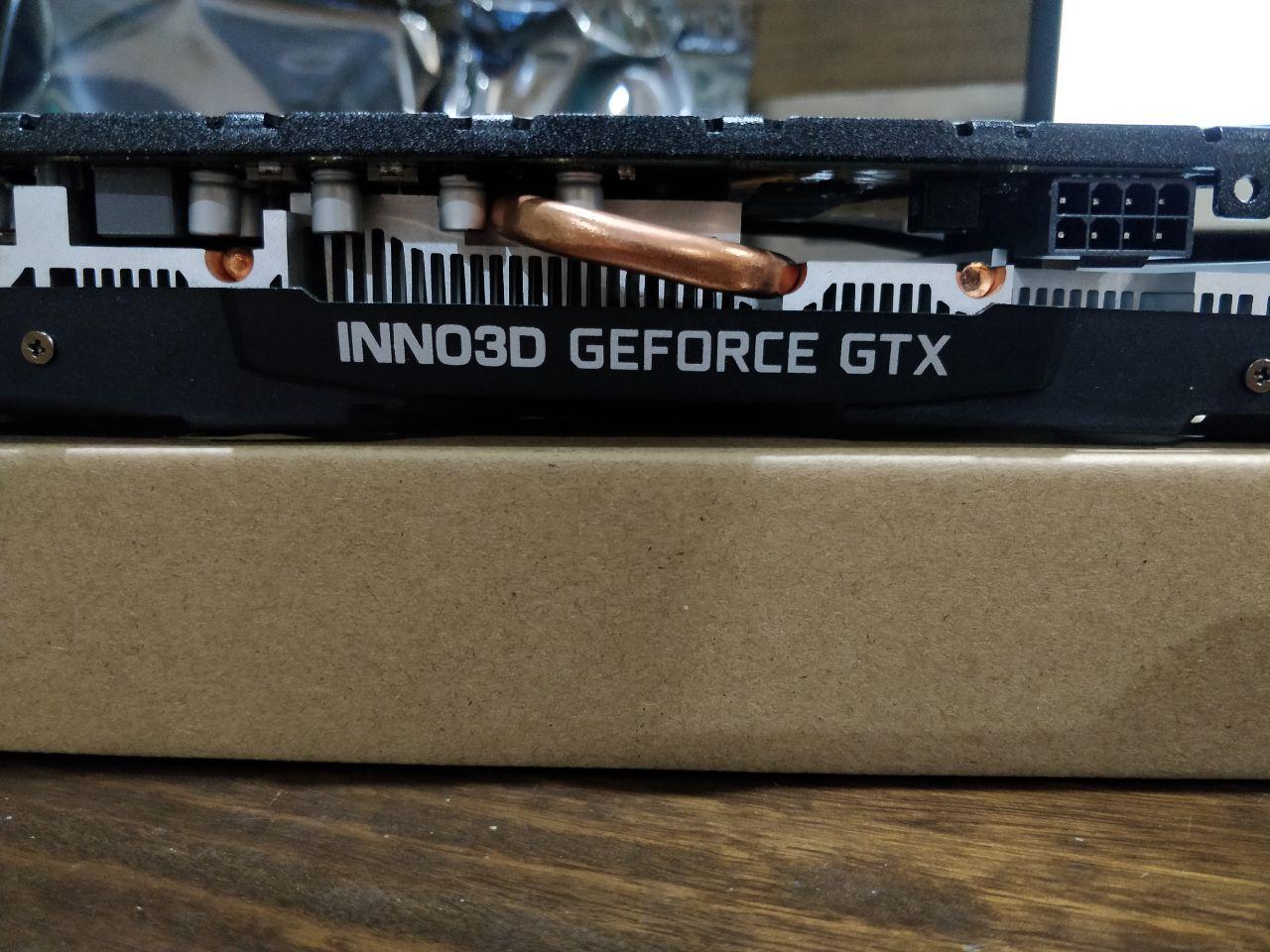 On the back, we have 3x Display port (1.4) and 1x HDMI (2.0b) ports which are again the standard ports these days on a GPU for display.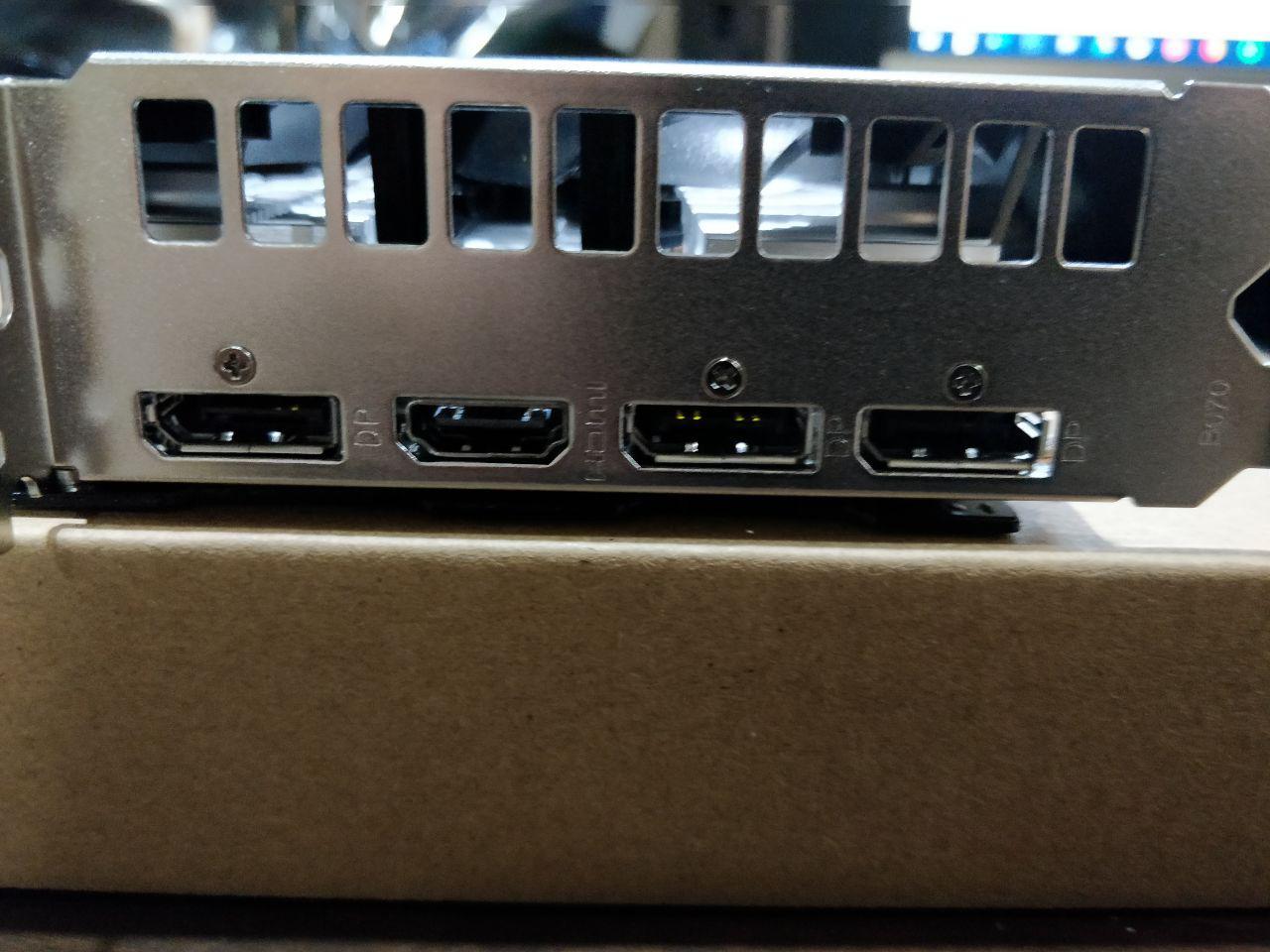 Coming to the most interesting part of the overview, we have this beautiful Black and White aluminum backplate, again with the white INNO3D logo with what seems to be the main Nvidia GTX 1660 Super chip's backside on the middle of the backplate held on by multiple screws.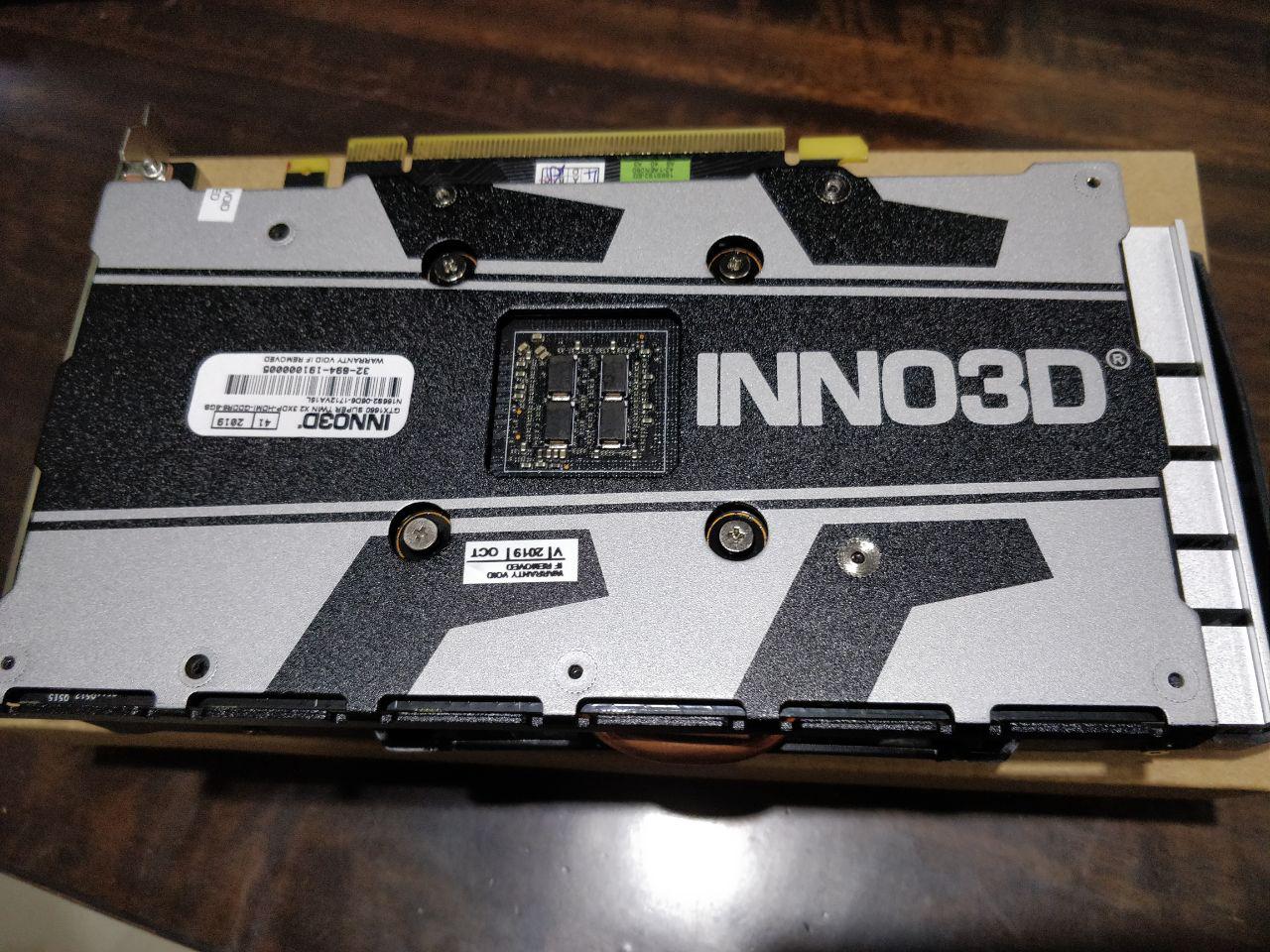 This is what the 1660 Super looks like when it's installed in the rig.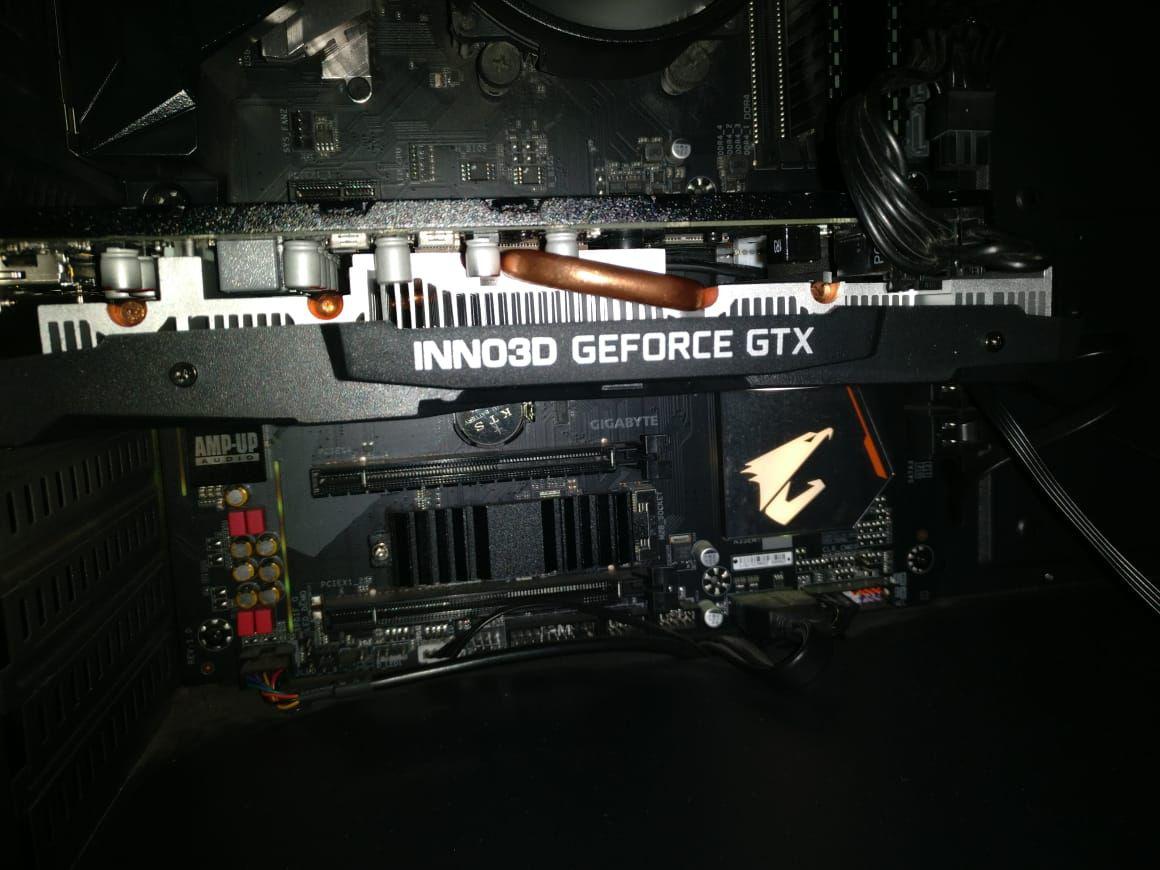 Gaming Benchmarks
Finally, the part which every viewer here has been waiting for has arrived, the benchmarks.
The RIG we used to test the INNO3D GeForce GTX 1660 Super :
CPU: AMD Ryzen 2600 Overclocked to 3.8ghz (stock cooler)
Motherboard: Gigabyte B450 AORUS WIFI
RAM: 16gb (8×2) Corsair Vengeance LPX DDR4 at 3000 Mhz
PSU: Corsair CX 650M
SSD/HDD: 500gb Samsung Evo 860 M.2 SSD, 240GB WD Green M.2, 4TB HDD
Monitor: Samsung CFG73 @144hz
P.S – Private Drivers are provided by Nvidia and hence these numbers are not final and should improve over time with day 1 driver updates and patches and even further with even more quality of life improvements. These numbers should only be taken as a reference to understand the power of the card using beta drivers' capabilities.
Tested and Benchmarked by our very own COO(Chief Of Operation), Raghav Kothari
As you can see from the above benchmarks, that every game ran at 60+ Fps on Ultra settings maxed out at 1080p without any problems. This card is an amazing value for those wanting games to run at 1080p@60 Hz or 1080p@144hz at ultra settings while keeping temperatures in check.
This card is best suited for competitive games as it provides over 100+ fps on almost all games including PUBG, CS: GO, Dota2, Apex Legends and should be more than enough for fortnight as well. A 144hz display with freesync or G-Sync will do just fine for multiplayer games.
Speaking of temperature, Max temp reached was only 78 in tomb raider which is a very heavy graphically demanding game. Normally the temps were around 65-75 which is decent given we were playing at Ultra settings and also using the full potential of the Samsung monitor at 144hz so there was no FPS limit as well which pushed the GPU to its maximum potential. These tests indicate that cooling won't be an issue unless you are not having enough cabinet fans to facilitate proper airflow inside your case. Idle temps hovered around 46-50 degrees and this was with dual monitor setup with videos running on the background on youtube at 4K most of the time.
No comparison charts since it won't be fair to compare a fully amped up current RTX 2060 and GTX 1070 (which are the closest competitors) with best drivers to a not even launched GTX 1660 Super with beta drivers. Though still anyone anxious about the beta performance, all the games tested in this card had 10-20 fps less than the RTX 2060 which will eventually even out with better drivers in the future.
Software
Just like every other brand, INNO3D have their own software known as the INNO3D TuneIT. Here you can 1-click or manual overclock your INNO3D products and also change the Lighting profiles of your GPU as well as check your product information, update bios and also change fan speeds of the GPU manually.
Here you would be able to 1-click overclock your graphics card if you have no experience with overclocking whatsoever and do not want to deal with issues pertaining to manual overclocking or if you are simply new to this and want to gain some free extra frames. This is the easy Mode
Advanced Mode, you can change GPU offset values and target power and temperature values to your liking provided you know what you are doing. You can save these things on different profiles so that you can switch between them anytime you like.
Since there are no RGB LEDs in this GPU, we have no use of the LED EFFECT option. But this can be used on the ones that do come with RGB lighting and can be used to customize the theme styles or you can also manually input your own color preference as well. You also have the option to switch off all the RGB lighting as well if you want to.
Pricing And Variants
No details regarding pricing have been revealed yet but according to my calculations, it should be around the 20,000 INR margin if Nvidia wants this card to compete with its AMD counterpart. 20K seems to be a decent price and mixed with good drivers will be able to provide GTX 1070/RTX 2060 performance for even lesser price.
There will be an RGB/LED Model as well of this same exact GPU in the coming days as well, so those who love some lighting can go check them out.
NOTE: Sample provided by INNO3D for reviewing Purposes Only. Special thanks go to Bankim Aggarwal for sending this early for review.
CLICK HERE TO BUY  –  Amazon , VedantComputers , MDComputers
INNO3D GTX Geforce 1660 Super Review
Build Quality

Features

Peformance/Temps

Software
Conclusion
Getting the performance of a GTX 1660Ti with the newly introduced GTX 1660 Super at an even lesser price whos performance will only improve over time with future driver updates and will only go up and come close to both these current cards which will make it a very value for money(VFM) purchase for the consumers.