Galax has sent us their brand new RTX 2060 SUPER EX graphics card for review so today, we will be reviewing it and seeing how much of an improvement it has over the previous gen. We will also be comparing the card with our current RTX 2060 that we have with us.
Introduction
Nvidia launched their latest Super cards earlier this month, namely the 2060S and the 2070S.
The 2060S is supposed to replace the current RTX 2070 GPU and the 2070S with the RTX 2080. Super cards were launched to compete with the latest announcement that AMD did with their own GPU lineup, namely the RX 5700 and the RX 5700 XT.
Specification
CUDA Cores  -2176

1-Click OC Clock (MHz) 1695 (by installing Xtreme Tuner Plus Software and using 1-Click OC)

Memory Speed – 14Gbps

Standard Memory Config – 8GB

Memory Interface Width 256-bit GDDR6

Memory Bandwidth (GB/sec) – 448

PCI-E 3.0
Review
The card comes in this standard box and inside we find the manual, 2 cables which are meant to be used on older setups which do not have the required connectivity for the graphics card and we have the card itself in all its glory.
Speaking about the physical aspects of the card, it has 2x100mm fans to keep the card cool and a beefer heatsink design( temps will be shown in benchmarks section).
The IO ports include 2 Display ports and 1 HDMI port
The backplate used here is aluminum in design and looks sleek and gorgeous with black and white accents all around complimenting each other nicely
Coming to the power connectors, the card requires 8 and 6 pin connectors over the normal 8 pins only design in the founder's edition as this will be used in powering the 1 click OC or manual overclocking as well as the RGB implementation on the front plate and both the fans
The front side which is the side we see when we plug in the GPU, has " WHAT'S YOUR GAME?" Logo on it which lights up in RGB as well along with the standard GEFORCE RTX Logo.
Since the card is a bit bulky due to the heatsink design, after installing it, we found it to slag a bit down as there is no support bracket provided with the GPU, but it's still not that much considering its size and weight.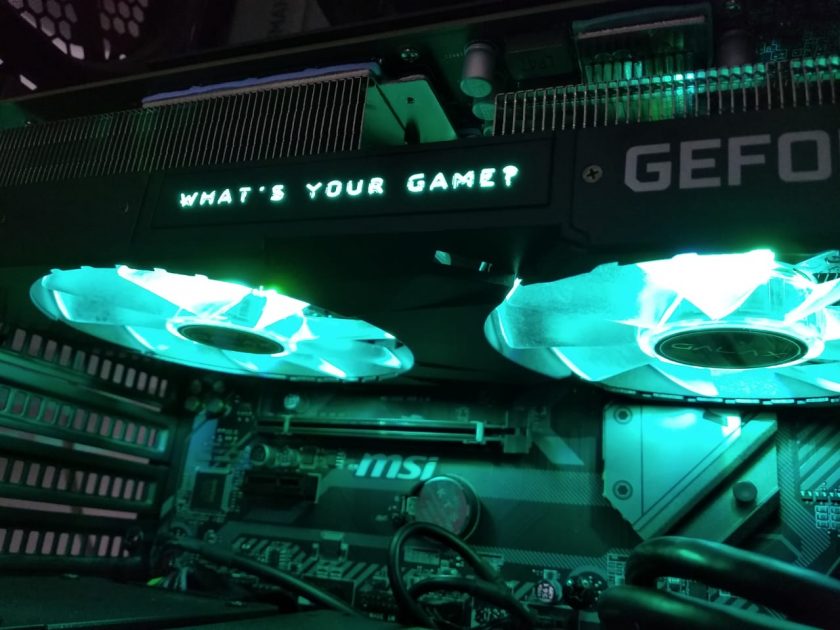 Temperature/ Noise
We have played a lot of games ranging from Battle Royale to MMO to RPGs and this card performed really well under all loads.
This Galax card did not go beyond 72 degrees in our testing which was the highest it went due to Raytracing being enabled in Shadow of the tomb raider. This has been possible mostly cause of the beefier heatsink which has been used here to keep the GPU cool.
All the other games ran exceptionally well under decent temperatures hovering around 50-60 C, the exception being PUBG(Steam) which really pushes the card way beyond its limits and uses almost all the resources you throw at it in your PC coming at around 69 degrees.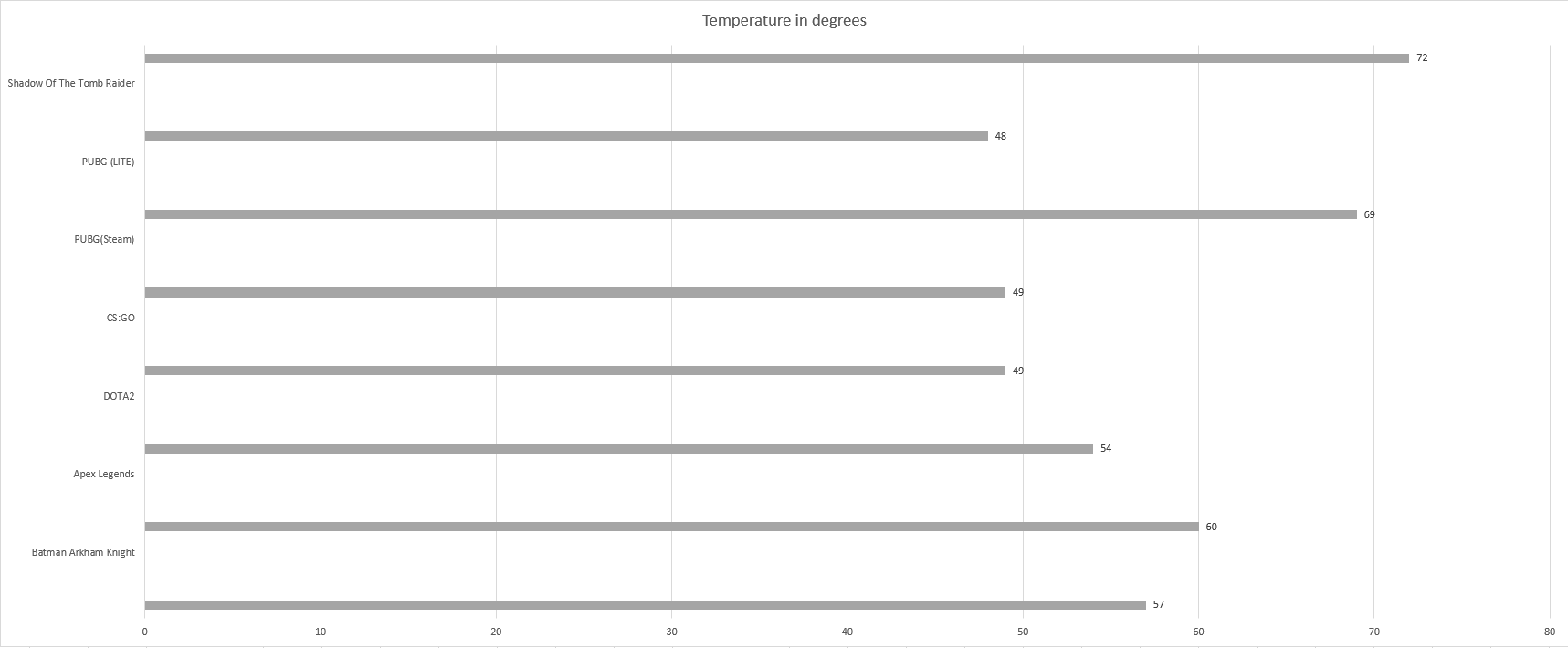 The 2060S EX was silent even under heavy usage when we played games at ultra settings maxed out on 1080p@144hz refresh rate. There was no audible sound coming when we put your headphones down for a moment to hear.
Safe to say, you will not be irritated or disturbed while on heavy gaming sessions as long as the fan noise is concerned.
Gaming Benchmarks
Finally, the part which every viewer here has been waiting for has arrived, the benchmarks.
The RIG we used to test the Galax's RTX 2060S EX :
CPU: AMD Ryzen 2600 Overclocked to 3.8ghz( stock cooler)
Motherboard: Gigabyte B450 AORUS WIFI
RAM: 16gb (8×2) Corsair Vengeance LPX DDR4 at 3000 Mhz
PSU: Corsair CX 650M
SSD/HDD: 500gb Samsung Evo 860 M.2 SSD, 240GB WD Green M.2, 4TB HDD
As you can see from the above benchmarks, that every game ran at 100+ Fps on Ultra settings maxed out at 1080p without any problems. This card is an amazing value for those wanting something to run at 1080p@144hz or 1440p@60hz at ultra settings while keeping temperatures in check.
Almost every game except for Witcher 3 and Batman Arkham knight ran at 100+Fps.
Below is a comparison benchmark we did with our previous Zotac RTX 2060 Amp edition card to check out how much of an improvement it was to the new Super cards and whether is was worthy of a purchase or not
On some games, there is not much of a difference due to it being CPU bound but the games where GPU is the most important factor is where we see the difference.
Look at Witcher 3 for example, a bump from 74 avg to 92 avg is certainly shocking to see, the difference in average performance here is very strong, same goes for Apex legends and Shadow of the tomb raider with almost 10-15 fps more.
If you are looking forward to upgrading and you play more GPU intensive titles/AAA games then this is certainly worthy of an upgrade else if you are only into esports titles then we would recommend waiting for the new 7nm Nvidia GPUs which will come next year in 2020.
Software/ 1 click OC
There is always something different when it comes to what features a certain brand provides over its competitor. One such feature of Galax is their 1 click OC known as 1-Click OC which rams up the GPU to 1695 MHz automatically without manually doing anything else.
This is the Utility which you can download from their Product Page
This utility is called Xtreme Tuner and is Galax's own tuning software meant for overclocking and changing fan curve of the GPU fans to control temps as well as control the RGB lighting of your Galax graphics card.
There are 4 different tabs on the top namely OC, 1-Click OC, RGB and FAN
OC – OC tab is the main tab where you will land up upon its first boot and you will be able to control your GPUs performance and would be able to manually overclock it to your liking.
1-Click OC – By clicking this, your GPU will automatically boost up to 1695 Mhz and you will get the " settings applied" notification once it's done. If you are not into overclocking and do not want to mess with manual OC, then this is the best thing to do before you boot up any game to get some extra fps/juice out of your card.
RGB – As the name suggests, you would be able to control the RGB features of the card, change the colors to whatever suits your mood.
FAN – Here you can change the fan speed settings according to your likings or let the auto settings work by default.
Conclusion
As far as performance, temps and build quality goes… look no further. This Galax card is beefy, uses good quality components, aluminum backplate with black/white accents gives this card a really good feel and look while the heatsinks keep the card cool while under heavy load and do not let it go beyond 72 degrees( in our testing).
All in all, a solid 2060 Super card from Galax that we have tested which performs well than the RTX 2060 AMP and at a price of approx 35,000 INR, this is a solid deal.
Galax Product Page / Buy link – Click here