The GTX 1080 has been there for quite a while now and the AIB partners have released multiple versions of it by now. So we take a look at one of MSI's offerings, the GTX 1080 Gaming X. Although we might be a bit late to the party, it's better than never, isn't it?
Box and Accessories
Just like all MSI Graphics cards, this one does come in a fine package too. Front and back printed with the advantages and illustrations and the gaming logo all around. MSI does offer a nice unboxing experience with their GPUs that's for sure.
Open it up and you'll get access to all that's inside (of course). There are the usual contents- The Driver CD, some documentation and last but not the least, the Graphics card itself. We recommend tossing the CD aside and downloading the latest GeForce drivers.
We hope one day all products would ship with flash drives as the installation medium for all drivers and other supplied software
NOTE: – This is a review sample, hence it has been reviewed and used by a lot of people before coming to us, hence the wear and tear of the contents inside.
Initial Impression
Taking a look at the graphics card, this card does look an awful lot like the previous generation Twin Frozr V cards with the same red and black color accents and design. There is a bit of RGB on the sides.
The difference is visible when you look at the backplate, which now has a different design and the MSI Gaming dragon emblem printed on it.
Card length is 280 mm with a width of 145 mm
Features:-
Base Clock Rate

1709 MHz

Boost Clock Rate

1848 MHz

GFLOPS (Base Clock)

8750

Texture Fill Rate (GT/S)

273.4

Memory Size

8GB

Memory Clock Rate

2528 MHz

Fan(s)

2x 95mm Axial

Length

28.4cm

Height

13.5cm

Depth

3.5cm + 0.5cm

Weight

1101g

Power (Idle)

15W

Power (Gaming)

220W

Power (Torture)

251W (Press BIOS)

Power Connectors

PCIe 1x 8-Pin + 1x 6-Pin
Overview
As mentioned earlier, the PCB is covered by the beefy Twin Frozr VI cooler, with its six heat pipes passing through the fin array and two distinct black heatsinks. All of this underneath the familiar red and black shroud with two 120 mm fans.
In our tests, the cooler did handle temperatures pretty fine, we will talk about that a bit later.
Power input is handled via 8+6 pin PCI-E power connectors that allow a maximum of 300 W power draw. Even though it's not likely to reach even close to that, it's a nice thing to have for a comfortable OC headroom.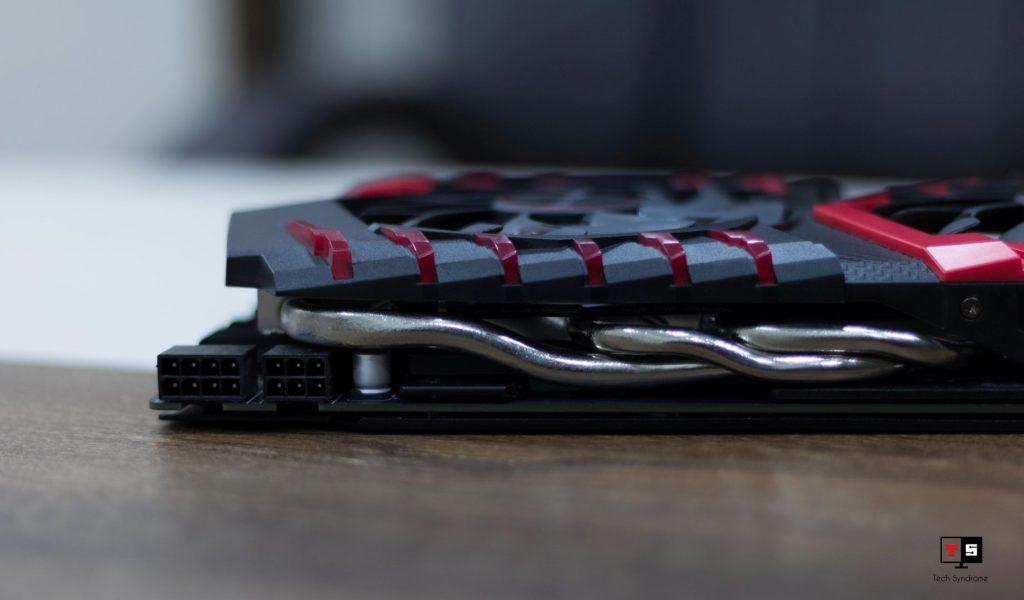 At the heart of the PCB rests the Pascal GP 104 chip made by TSMC on the 16nm FinFET fabrication technology. The metal contacts cover the topside to dissipate the heat it generates while in operation.
Display I/O spread across the dual slots are one DVI, one HDMI (2.0b compatible) and three DisplayPorts (1.4 Ready).
Testing Methodology
Test Rig Specification:
CPU: Intel Core i7 6700K
CPU Cooler: NZXT Kraken X61 AIO Liquid
Motherboard:  MSI Z170A GAMING TITANIUM
RAM: 8GB Kingston HyperX Fury DDR4 @2133MHz
Storage: 128GB Corsair SSD + 2TB Seagate Firecuda SSHD
Cabinet: NZXT Phantom 530 Full Tower
Power Supply: RM 650x
So we carried our tests with the following Synthetic benchmarking tools and different games and these are the results
Synthetic benchmarks

:
Gaming Benchmarks:
Noise and Temperature
The Gaming X 1080 remained at 45-46 C on idle.
Peak temperature reached was 75 C on full load.
Speaking of acoustic levels, the GPU remains fully silent as it is passively cooled till it reaches a threshold of 60C, before which the fans don't even start spinning.
Even when the fans are spinning, it is tough to notice since they remain very silent during operation.
Power Consumption
On Idle condition, power draw was around 10W. Max load while gaming at peak settings went to around 218W. These numbers are a bit higher than the competing cards, we wish it wasn't the case but you have to deal with the way it is. Not by a big margin, but it's less efficient.
To sum things up…
The MSI GTX 1080 Gaming X does perform quite better than many OC editions and the founder's edition cards. The cooling system is acceptable and temps never got too high. Noise generated is negligible.
All the usual new generation benefits are there like Ansel and 12-Bit HEVC encoding support. Overclocking the card gave a little more boost to the performance and it is possible to push the card even further.
Compared to all the other AIBs, the Gaming X is placed at about 56000rs at the time of writing this article which is slightly on the higher side compared to its other competitors.
The color scheme, to be nitpicky, is suitable for red and black themed builds only. The RGB under the red plastics doesn't even make much sense. They could have improved here to be well suited to many more builds and not just red-black.
Verdict
The MSI GTX 1080 Gaming X does offer all the features that it's bigger brother series Gaming Z does, just at slightly lower clock speeds. It performs like a beast and keeps itself cool.
The design language is good but the color scheme could have been more subtle to fit a greater variety of builds. The RGB isn't useful since it will look very out-of-place when used with anything else but red (due to a huge portion of the shroud being, well, RED!)
But unfortunately, all of these appears to be quite pointless when you look at the price tag. It is quite overpriced, almost to the point, it seems ridiculous. It might be a beastly card but this setback makes it hard to recommend.
TECH SYNDROME RATES IT: SILVER